Former Chairman of the Public Accounts Commit-tee of Parliament Carl Greenidge has flayed Auditor General Deodat Sharma for not probing deeper into the recently exposed multi-million dollar medical expenses for government officials.
"The AG should not need to be given instructions to investigate the expenses. First, his duty is to establish whether there are administrative rules and regulations governing expenses and if so have these medical bills met those criteria," Greenidge told Stabroek News yesterday.
Of the $361.4 million disbursed by the State as financial assistance for medical treatment in the period 2012 to 2013, the majority – over $200 million – was spent on top government officials and their associates. There were several large expenditures for dental work, including $2.1m for Amerindian Affairs Minister Pauline Sukhai. Critics have said such substantial expenditures should be reserved for life threatening afflictions.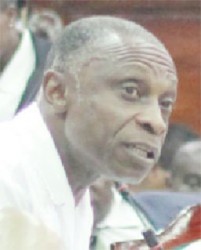 Greenidge's remarks came in the wake of the Auditor General telling Stabroek News this week that he saw no discrepancy in the line item where the medical expenses fell as he was conducting the 2012 audit for the Ministry of Health.
"They (medical expenses) would have to be part of the ministry's budget line item audit, not as a special exercise. It would have been taken as part of our samples, some of the vouchers, not all the vouchers," he said.
"See, remember like external auditors, we don't do 100% audit under each line item, based on risk base etcetera …  so it depends on the materiality of it, we would have picked couple vouchers and examined some of them… don't think we wrote anything on it," he added.
The Auditor General explained that at the time of this newspaper's call he did not have the records in front of him and could not say which line item the monies fell under or specifically what notations he had made then.
Greenidge said Sharma should look at these cases in light of the complaints and controversy that have arisen and if he does and cannot find irregularities, he should report his findings and the criteria he uses.
However, he believes that once the records are analysed again, it was unlikely that no discrepancies would be found. "This is an unlikely outcome because the cost of the treatment seem exorbitant. What dental operation in Guyana would cost $2 million?
Why a PPP MP would be entitled to what appears to be unlimited medical treatment abroad? Which regulations permit this for the PPP and not for the Justice for All Party MP?" he questioned.
He said the Audit Office can be called upon to examine the existing criteria and make recommendations about their formulation, if they do not exist or modifications if they exist and are inadequate or inappropriate. They can also be made to look at the actual arrangements involved in the controversial cases and recommend remedial action, such as repayments where the procedures are inappropriate and should have been met by the Minister or MP.
Cabinet Secretary Dr. Roger Luncheon has justified the spending, saying that the benefits for ministers came as a part of their employment packages and it was inherited by the PPP/C when it came into power in 1992.
'Condition of service'
"It is a condition of service—maybe unfortunate it isn't written—but it is a condition of service of cabinet members, when appointed, for the state to take care of their health expenses. This condition is not new, the concept, it is applicable to all public officers, all of our reps abroad at Diplomatic offices also have this condition of service. The difference, however, is that condition of service and its expenditure of cabinet members is not rules based," he told his weekly press conference.
"I would say this, that the evidence exists and we can produce from the beginning of the PPP every single recipient that has enjoyed access to this facility… it is an exercise of discretion in exercising a condition of service which has been extended to include other constitutional positions," he went on to add.
APNU-AFC Coalition Leader David Granger has stressed that the system needs a structure. Granger said that this "structured policy and guidelines" would be implemented under his leadership should the alliance win the May 11th elections. "There should be a law that governs the conditions under which members of the cabinet or members of the government access this particular facility… how much and for how long, that is what is needed," he said.
His views were echoed by Greenidge, who says that to have a system where there is no cap on monies paid out for medical expenses was a recipe for disaster. "The Executive and its Ministers do not have the right to spend what they like or whatever the Cabinet feels like approving. Even in the case of medical bills, it should not be approving requests on an ad hoc basis. Guidelines should be approved by Cabinet on the basis of recommendations from technicians and the Ministry of Health. If there is an exceptional or compassionate case, they can decide but it cannot be a system where a Minister simply spends taxpayers' money on himself and his family without reference to our capacity to pay or to what facilities are available to the general public and taxpayers who meet the bill," he stressed.
"It is inconceivable that no limits apply to medical bills for Ministers. The bills in question amount in some cases to a multiple of the annual salary of a senior civil servant," he also lamented.
Around the Web