Dominica has removed all unauthorized restrictions on the free movement of goods, services, capital and the rights of establishment, save for the restriction on non-OECS Caricom nationals to acquire land above a certain size, without an Alien Landholding licence, Dominica's Ambassador to Caricom Felix Gregoire said.
According to a press release, Gregoire made the pronouncement at a Media CSME training workshop last month.
Gregoire stated that Caricom made a suggestion for a resolution of the issue, with which Dominica has to comply.
The statement said Dominica had given the Labour Division in conjunction with the Immigration Department to handle the issuance of Skilled National Certifi-cates.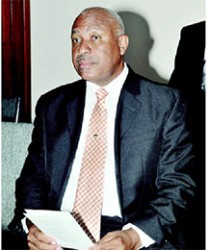 "To date, 360 Dominicans have applied for and been granted Caricom Skilled National certificates, which enables them to move without restriction within the CSME in search for employment opportunities," the statement read.
The Ministry of Trade, along with the CSME Unit in Barbados, have started a best practices model for the issuance of the Free movement of Services certificates with a proposal that the Free movement Committee or the Dominica Coalition of Services (DCSI) be confirmed as the competent authority. This role is presently performed by the DCSI.
Also, Gregoire stated that with consumer protection being a priority for the Dominican Government, the new and revised (2015) Caricom Bill has already been reviewed by the Ministry of Justice and the Ministry of Legal Affairs and is in the process of further review by the Ministry of Trade to settle on penalty provisions.
According to the statement, the Bill, which will provide for the promotion and protection of consumer interests and the establishment of a Con-sumer Affairs Commis-sion, will undergo further consultation with the private sector to ensure that it is tailored to Dominica's domestic context before submitted to Cabinet.
Gregoire said Dominica was making steps toward the standardization of administrative practices and procedures "which gives practical expression to free movement."
The statement said further that an assessment of the existing legal and institutional arrangements in Dominica is also being examined to build "regional capacity for quality assurance, standards setting and mutual recognition of licenses and certificates for persons in the technical and vocational areas."
Gregoire said the developments were crucial to the inclusion of Caricom Nationals within the process of decision-making, implementation and operation of the Single Market.
"People must say if the systems are working, or are efficient enough for the CSME to be worth the effort. People must understand what's happening and what's in it for them, which brings us to CTCP Component 300 and the rationale behind the recent worksite meeting for process owners, and training of media and spokespeople," the statement quoted him as saying.
Journalists were given the opportunity to contextualize the operation of the recent series of capacity building activities which were effected in Dominica from December 2014 to February 2015, as a means to connect Dominican people and businesses with the CSME.
Around the Web