By Jeff Trotman
Kelroy Williams, 43, of Wisroc Housing Scheme died on the spot early yesterday morning after he and another man invaded the home of Marvin McLennon, 37, in a desolate area of Phase Three of a new housing scheme at Amelia's Ward, Linden.
According to a source, the accomplice of the dead man managed to escape, but was wounded as he left a trail of blood on the ground over 25 yards from the house.
According to a report, McLennon, who is the owner of the house, was chopped in the neck. He was reportedly a patient at the Linden Hospital Complex, under police surveillance.
The incident occurred around 06:00 hrs yesterday.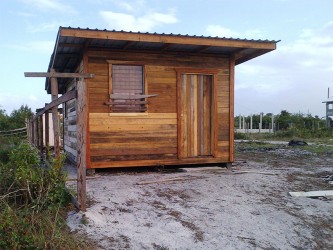 When Stabroek News arrived on the scene, it was observed that several louvre panes at the solitary front window of McLennon's house were broken and barred with strips of wood.
It is alleged that Williams and another man had entered the simple one flat house at some time on Sunday evening by removing the louvre panes from the front window. They allegedly replaced the louvre panes and lay in wait for McLennon.
According to a taxi driver, who plies the Amelia's Ward route, McLennon, who was also a taxi driver, did not return home until early yesterday morning and when he entered the house, he was confronted by the two men.
A scuffle ensued during which Williams received the fatal wound. He managed to stumble through the front door and fell dead on the loose sand at the front of the house while his accomplice managed to escape, leaving a trail of blood.
According to reports, McLennon had recently sold a concrete house in which he had previously lived not far away in South Amelia's Ward. A neighbour said McLennon had built the simple wooden house just over a month ago and had recently moved into it. It is also alleged that McLennon acquired a new car less than two weeks ago, replacing an older car, which he used to ply his trade as a hire car driver.
Around the Web