Four months after a Ruimveldt woman died from suspected air pollution, other residents are now falling ill and are awaiting a full investigation into the pollution.
For quite some time, Ruimveldt residents have been complaining of air pollution caused by the smoke emitting from a generator at Single Food Export (SFE), a factory in the Ruimveldt area.
The smoke was cited as a contributory factor in the death of a Ruimveldt woman. Anthony Cozier, the husband of the woman, said a post-mortem examination showed her lungs had been blocked.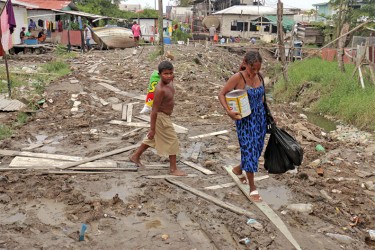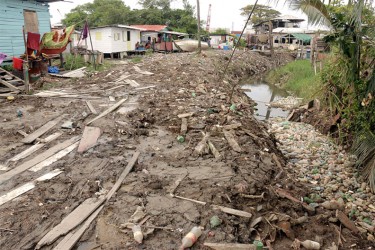 Resident Zahir Hussein on Tuesday told Stabroek News his son was admitted to the hospital because of blocked up lungs. He said his son seems to be healthy but he is still nervous that the smoke might affect him again.
Another resident, who asked not to be named, said the residents are still suffering and the generator has been in operation 24/7. "Is only when it bruk down, it will stop wuk," the woman said.
The woman said if you were to take your finger and wipe your nostrils, it would return pitch black.
The woman then proceeded to show Stabroek News a plant whose green leaves had been coloured black by the smoke.
Hussein also said that no one had come to investigate their claims of air pollution since a Stabroek News report on the situation was published last month.
Though the Environ-mental Protection Agency (EPA) had said that an investigation would be launched and the findings revealed in two weeks, this publication is yet to receive any word from the environmental agency.
When previously contacted, a SFE representative had denied the company's culpability for any form of pollution in Ruimveldt.
Further, the representative had said that the facility had been inspected by the EPA.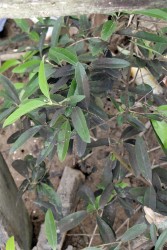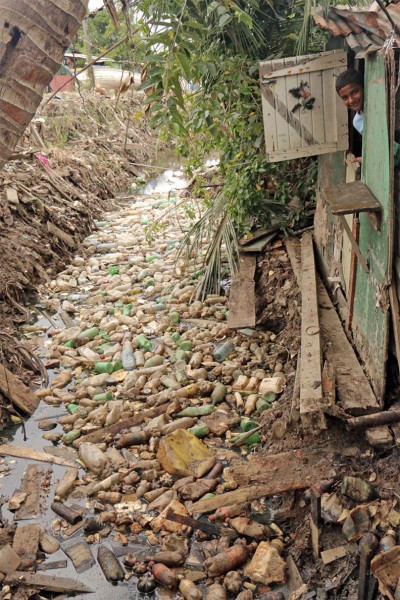 Meanwhile, the residents said that they have added water, land and noise pollution to their list of grievances.
When approached for comments, residents were forced to speak loudly due to the roar of SFE's generator.
According to several residents, their situations were made worse when water, mud and garbage invaded their homes a few weeks ago via high tides.
When Stabroek News visited the area on Tuesday, the trench was clean but the surface which the residents walked on was soggy and littered with plastic.
Butch Madramootoo who had aired her grievances when water crept into her home, said "someone" came and started to dig the trench. She said they were trying to clear the trench to prevent further flooding but all they have done is created a huge slush and a garbage infested area.
She said several   persons have been injured since the work has been done, including her. Madramootoo said she slipped and injured her back. John Madramootoo said he was against the project because the high tides still affect the area.
Around the Web