The RUSAL-run Bauxite Company of Guyana Inc (BCGI) commissioned a new $4.6B mine on Wednesday.
The ceremony was held at Kurubuka in Region 10, where President Donald Ramotar declared that the Bauxite industry is on firm footing.
Over the years, RUSAL's operations in Region 10 have come under scrutiny due to frequent claims of mistreatment by workers. The Guyana Trades Union Congress (GTUC) has accused the BCGI of disregarding the labour laws and ill-treating their workers and criticised the government for endorsing the company.
Ramotar said RUSAL's investment in the bauxite industry will improve the economy and provide more goods and services for Guyana. "I hope wealth is shared by all the people in our country," the president noted.
Ramotar subsequently said that recently some foreign investors have come under attack. He said the Chinese have been criticised, but the government has given the same benefits to the Chinese as any other foreign investor. Despite this, Ramotar said the story is being "spin doctored" by persons in society.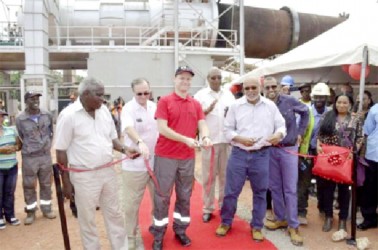 RUSAL's CEO said Bauxite is a crucial element and that is why the company took its time to invest.
Ramotar, when asked about the company's record at the commissioning of the mine, said he is unaware of any abuses of RUSAL workers and he could not give a comment on claims by workers.
RUSAL's Chief Execu-tive Officer Vladislav Soloviov said he is not aware of the workers being treated poorly but said, "If we have a joint mutual discussion, they can resolve any issue."
He said RUSAL has created 1,500 jobs and it is committed to the social development of Guyana and its people. He said RUSAL will send the best workers to Russian universities to study in the field of mining.
"Workers get treat real bad. You could be working for years and get knock off just like that if you talk too loud," one worker, however, said on Wednesday. He added that when some people come forward to reveal details of ill-treatment, RUSAL would "buy them out."
Another worker said the place has atrocious working conditions. He said there is not even a washroom for the workers. The man said there is no benefits for the workers, before declining to speak further due to his fear that he could be axed.
Minister of Natural Resources and the Environment Robert Persaud said the government makes sure that RUSAL adheres to Guyana's laws and the country gets maximum benefit. He said he hopes that this project will attract other investors, while noting that the bauxite industry is not only good but viable. Persaud said he hopes RUSAL will examine expansion and create more jobs for the Guyanese people.
The GTUC had previously criticised the company in 2011 and said there had been an increasing occurrence of industrial fatalities under RUSAL's management. In 2011, Franklyn Reece of Hururu Mission, Berbice River, had died after a wall caved in. In 2014 ten company employees were injured at a mine after a minibus transporting them toppled due to the poor road conditions. Before that, a worker, Otis Conway, was seriously injured in a car accident, and complained that RUSAL did not compensate him well.
Around the Web