The governments and NGOs in Haiti and the Dominican Republic have committed to collaborating with PANCAP in strengthening their bi-national cooperation on health including HIV.
According to a press release, Director of the Coordinating Unit of the Pan Caribbean Partnership Against HIV and AIDS (PANCAP) Dereck Springer visited Haiti and Dominican Republic between 2 to 5 March and 9 to 12 March respectively, to strengthen collaboration.
In Haiti, Springer met Haitian Minister of Health Dr Florence Duperval Guillaume and other officials. Minister Guillame identified the need to ensure that the PANCAP programmes are sustainable and can continue independent of donor support.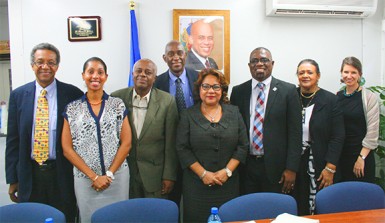 On the NGO front, Springer met Director of Population Services International (PSI) Haiti Anick Supplice Dupuy and staff. PANCAP, with funding from Kreditanstalt für Wiederaufbau (KfW [German Development Bank]) has been supporting PSI Haiti through the Caribbean Social Marketing (CARISMA) IV Project to implement programmes including sexual reproductive health (SRH), outreach to men to encourage them to support their partners use of family planning; and HIV reduction among the most at-risk populations in Haiti, the release said.
Visits were made to GHESKIO Centre at the National Institute of Labs and Research that is headed by Dr Jean William Pape and which works in close partnership the Ministry of Health to improve health care through prevention, clinical care, research and training; and the Eben Ezer Clinic which offers high quality affordable sexual and reproductive health services in the private sector.
The release said Springer commended Haiti for its private sector social franchise model of health care which he noted can be adopted by other countries in the region and for its emphasis on primary prevention of HIV.
In the Dominican Republic, Springer met Minister of Health Dr Altagracia Guzman Marcelino, Director of CONAVIHSIDA (the National Council on HIV and AIDS) Dr Victor Terrero, Director of DIGECITSS (General Director for Control of the Transmission of HIV and Sexually Transmitted infections) Dr Luis Ernesto Feliz Baez, Executive Director of PSI Wendy Alba as well as members of the media.
The release said Springer also visited the COIN Clinic which offers integrated services and the Barohona Region to observe the PSI's outreach mobile clinic which provides SRH services to primarily Haitian women. He also visited the Barahona Regional Hospital which is constructing the first Adolescent Friendly Health Clinic.
He lauded the Dominican Republic for its coordinated multisectoral response to HIV and for fully funding its ARV treatment programme and associated diagnostic cost effective January 2015.
PANCAP is a sixty-two member partnership which was established by Caricom Heads of Government in 2001 to respond to the HIV and AIDS epidemic in the Caribbean.
Around the Web