APNU+AFC Prime Ministerial Candidate Moses Nagamootoo on Saturday night fired up supporters of his party as he urged them to move past old political hatreds and create a better future for Guyana that generations to come will be proud of.
"It is time that we heal the division that has been caused since 1955… It is time to start to write those pages in the way we want to write it, to write the pages and leave out the pain," the flamboyant Nagamootoo told APNU+AFC supporters on Saturday in Linden at the alliance's campaign launch.
The Prime Ministerial candidate for the coalition received a warm welcome from the crowd, which he worked into a frenzy with a riveting address that took jabs at former President Bharrat Jagdeo over his recent admonition to his successor that he should have given the opposition some kicks up their asses. "I want to tell the ass kicker that he needs pampers for his mouth… the people in this country needs to kick his…," Nagamootoo said, as he paused and let the crowd complete his sentence.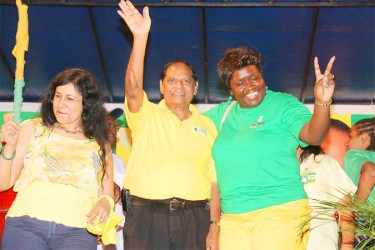 'Kick Ass' would be the words of choice for attendees as it formed the basis for most of their chants throughout the evening.
Nagamootoo, who spoke for close to half an hour was the speaker who garnered the most interaction from the crowd and who seemed to have them glued to his every word.
He stressed that that while it was important to remember ills of the past the act of dwelling on them without an active plan for the future could lead to dire consequences. He noted that one's reflection on the politics of yesteryear can be painful but Guyanese must accept that, how much ever it hurts it can't be re-written and as such they should plan towards a healed future. This, he said, can be achieved with effective planning to ensure those days will not be repeated.
"Today we must bury the hatred and hatchet of division or else we do not deserve to be free," he emphasized to claps and shouts of 'Preach it Naga' and 'Yes, Yes tell them' among other things.
Scoffing at the PPP/C's recent charges that an APNU+AFC coalition would take the populace back to a country where there would be elections rigging, food rationing by government and shortages and lining up for basic groceries, Nagamootoo assured that those days are over and will never be repeated if they were elected to office.
"Those who talk about rigging must understand that the past cannot enslave us. We are the masters of our destiny and we decide if we want to remember our past, it is to help create a better future, not to be buried in the past," he stressed.
He added "Today it is time to liberate ourselves from mental slavery."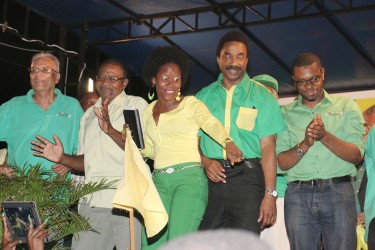 Nagamootoo pointed to the execution-style murder of Courtney Crum-Ewing who he said was killed because he spoke out for his belief in the importance of persons voting come next elections. He urged that Crum-Ewing's death not be in vain and that his along with the spirit of the nation's ancestors be used as inspiration in planning for a better Guyana.
Quoting from Samuel Sharpe, the slave who led the Jamaican Baptist War slave rebellion in the 1800s, Nagamootoo repeated that Guyanese should emulate Sharpe's attitude and rise up to say 'I would rather die among yonder gallows, than live in slavery'.
"The type of slavery that can visit us is when you have an oppressive government that tells you that you do not matter. When they can spend your money on their teeth so they can laugh at you with bigger and brighter teeth," he said, adverting to         the recent disclosures of government-funded spending by several ministers on their teeth.
"The type of slavery where they can spend $5B of your money without the approval of your representative in the parliament …give away your forestry, gold and spectrum to their families and friends your birth rights …it is time we stop that," he further said.
He told Lindeners that when politicians brought up history they must refer them to the time when striking sugar workers in Berbice received a show of solidarity by the bauxite workers of Linden. "Today here you are sending a message that you want to be reunited with the people of Port Mourant and all over the Corentyne," he said as the crowd jumped up, some doing a jig as they screamed 'Yes our brothers and sisters'.
He wooed his support base in Berbice telling them that if elected to office he will ensure that the sector is revamped, the Skeldon Sugar Factory is fixed and there will be no layoffs for workers.
Nagamootoo made reference to the fact that he and alliance Presidential Candidate David Granger attended the same school in Berbice and were childhood friends, a model he said Guyanese should follow as children see no race. "If Granger and I could share a village and a school why today we cannot share in common our beloved country?" he asked.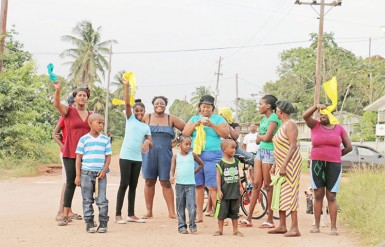 The Prime Ministerial Candidate stressed that unity was needed for the developmental changes planned for Guyana to be effective as "a house divided cannot stand", he said.
Meanwhile, AFC executive, Cathy Hughes, who is tipped for a Vice Presidential position if the alliance wins, in her address stressed the importance of going out to vote.
She told voters that while the crowds at rallies were pleasing, if persons did not take steps to vote the crowd numbers mean nothing come Election Day.
With elections being seven weeks away, Hughes urged persons to check the list of electors for their names and know where they are supposed to vote so as to ensure smooth voting on May 11th.
She asked supporters to remain vigilant but not be tempted into allowing anyone to influence or goad them into deviating from keeping the peace throughout.
"I am saying to each and every one of you I want you to go and check that list, make sure you know where you are going and vote and you must know early," she said.
"Do not be tempted into any activity that will make them put off May 11th. This is the time for us to be strong and quiet and on May 12th we will celebrate", she added.
She asked persons to be their neighbour's keepers on elections day and assist with transportation and whatever means necessary they can to enable everyone to go out and exercise their voting franchise.
Around the Web