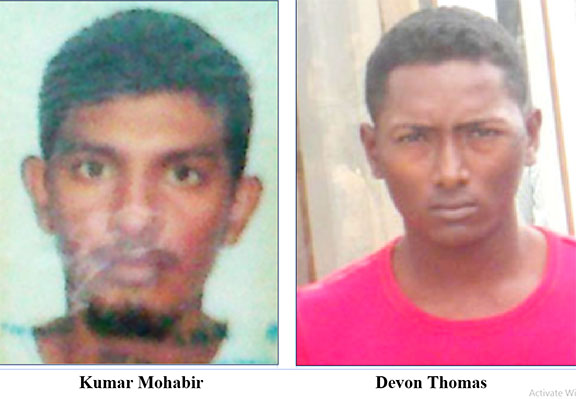 Devon Thomas, one of the two men on trial for the Mashramani night murder of businessman Kumar Mohabir, was positively identified by the victim's brother as one of the persons who had attacked them.
Thomas and his co-accused Randy Isaac have both denied the charge that they murdered Mohabir at Vlissengen Road, Georgetown, on February 24, 2013. Mohabir, a 25-year-old Enterprise, East Coast Demerara businessman, died of multiple stab wounds following the attack.
The two accused are on trial before Justice Navindra Singh and a 12-member jury at the High Court, where Detective Superintendent of Police Boodnarine Persaud testified yesterday.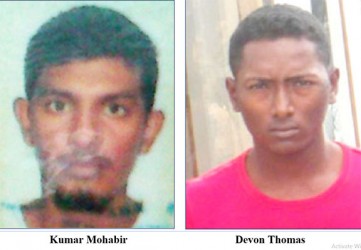 Persaud, in his evidence-in-chief, said that on February 27, 2013, he conducted an identification parade on which Thomas and eight other persons were placed.
According to Persaud, Navindra Mohabir, brother of the deceased, immediately pointed out Thomas as the one who had stabbed and killed his brother.
Detective Corporal Winston Singh, who also testified at yesterday's hearing, recalled assisting with investigations after receiving reports of an alleged murder committed on Kumar and alleged attempted murder committed on Navindra.
Singh told the court that relative to the reports he had received, he later contacted Thomas at his Better Hope, South, East Coast Demerara home, where he put the murder allegation to the young man, who replied, "Officer, I ain't kill anybody."
The court also heard from Singh that he put the allegation to Thomas that he, in the company of others, had inflicted stab wounds on Navindra with intent to murder him.
To this, the witness said, the accused remained silent.
Testifying also was Thomas' brother-in-law, Hardat Rajkumar, who recalled taking him to the Woodlands Hospital to receive treatment for an injury which he sustained under his left eye, for which stitches were required.
According to Rajkumar, Thomas had gone to his home on Mashramani night in 2013, and called out to him, asking to be driven to the hospital after explaining that he was attacked, beaten and robbed by three bandits.
This witness told the court that his brother-in-law had related to him that the injury he had under his eye was the result of the beating he sustained at the hands of the bandits.
Asked by Prosecutor Stacy Goodings whether Thomas had asked to be taken to the police station to report the alleged robbery committed on him or whether he had asked him to report the matter on his behalf, Rajkumar said no.
Meanwhile, asked under cross-examination by Thomas' attorney Latchmie Rahamat about whether anyone at the hospital had pointed out her client as the person who stabbed their brother, Rajkumar also said no.
His answer was the same when asked if anyone there had pointed out Thomas as having inflicted stab wounds on them.
Asked whether anyone had tried to stand in front of his vehicle to impede him from driving away after they were finished at the hospital, the witness again responded no.
Isaac's attorney, Peter Hugh, declined cross-examination of this witness.
In her opening address after the empanelment of the jury on Monday, Prosecutor Goodings, who represents the state in association with attorney Diana Kaulesar, said that on Mashramani Day, Mohabir, who was with his family, was attacked by the two accused, along with other persons.
She added that Mohabir was taken to the hospital where he later died.
The trial continues this morning.
Around the Web