Opposition Leader David Granger yesterday told business leaders that if elected president he would move to maximise alternative energy options and signalled plans to reform the Amaila Falls Hydropower project.
"We will completely reform the project, the Amaila Falls Hydropower project," Granger told attendees at a business luncheon hosted by the Guyana Manufacturing and Services Association (GMSA) at the Pegasus Hotel.
Granger, the presidential candidate for the APNU+AFC alliance, explained that while Guyana has the produce that can be processed and sold in the region and internationally, businesses were hindered from developing their potential because of high energy costs.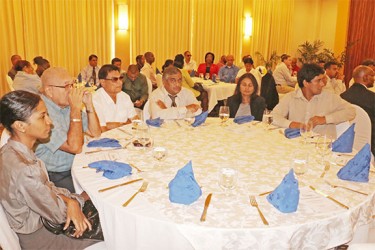 "The present administration has failed to develop fully our potential for wind, water and solar energy and that will be our initial thrust. There are over 100 hydroelectric potential sites and two actually generated power for a while but, out of neglect, were abandoned—Tumatumari and Moco Moco," he explained, when asked by one of the attendees about his plans for renewable energy.
"We will return to those sources of energy but we will also develop hydroelectric power with a project we have identified as the Potaro Basin Development Authority, which could embody the present Amaila Falls but it will not be a stand-alone project. It will be a basin development project… so, instead of relying on the Kuribrong alone, we will completely reform the project," he noted, while further explaining that the opposition coalition was not against hydropower but wanted a transparent project that can speedily bring electricity to Guyanese.
Granger recalled that on a visit to Moco Moco in Region Nine, residents expressed their frustration at not being able to have electricity. At the same time, he said he noticed an abundance of fruits, such as mangoes, being wasted on the ground every day. "I was going through Moco Moco and I was driving on mangoes. So, I asked the Toshao, 'Why don't you pick up the mangoes?' And he said the children fed up eating mangoes… there is no power to make preserved mango chunks or mango juice," he said.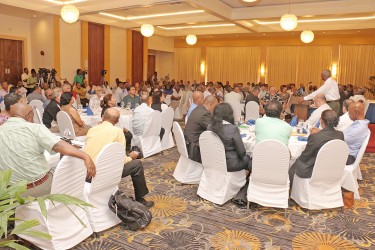 "This is because the Moco Moco hydropower project that was working until a tube was shifted during a landslide… and some genius decided we couldn't afford $70M to realign the tube… so the mangoes rot on the ground while we import Brazilian mango juice in Lethem," he added.
 Rehabilitate
He said that the Toshao wanted to know if he could legally approach a Brazilian investor to rehabilitate the downed hydropower plant as he knew that a Brazilian investor would be quick to invest once the manufacturing potential of the community is seen.
Granger referred to Barbados, where canned pineapples is a thriving industry, and said if Guyana starts manufacturing it could see a boom with such fruits. "We need to support our manufacturing industry at the cottage level, the grass root level, and we will support all forms of manufacturing but we need to solve the manufacturing problem," he said.
He pointed to investing in wind energy as he reminisced about seeing rice farmers in his village of Whim, Berbice, decades ago using it as their energy source.
According to Granger, this was also the source of power in Rupununi and other villages. "Not a single village in Guyana should be without power in Guyana in 2015. We have wind, we have water, we have wave power and we have solar power," he stressed.
"Guyana is nation of Jaguars–the people want development; they want to break out; they want to get rich; they want to be like other nations—but they are led by jackasses," he further told the audience, while localising the old British military phrase, 'Lions led by donkeys,'
He listed areas such as youth empowerment, education, tax reform and natural resource diversification as those where currently there are persons with tremendous potential but they are stymied because of leaders who do not know how to maximise their skills or nurture development.
Granger also assured the business community that should he be elected his government would not be about revenge against the current administration but would even evaluate some of the projects currently implemented and keep or tweak those found to be beneficial. "We are not going to be an administration that is bent on revenge, that is bent on recrimination or that is bent on retribution. It is going to be one that is based on respect. It takes all to pull the cart, it's just a matter of cause and consequence," he said.
"When a government changes, obviously there will be reforms and we will not throw out the baby with the bath water. We will look to see what can be retained and what can be changed," he also noted.
He said that an APNU+AFC government would move to reduce the country's reliance on sugar, rice, timber, bauxite, gold and fish and diversify its resources so as to maximise revenue for the country's development. "Stunted growth, stifled initiatives and stolen revenues, that is the country we live in; a country with so many resources but with so much poverty," he said.
Around the Web