APNU+AFC Presidential candidate David Granger returned to Georgetown on Monday after two days of campaigning in the Upper Demerara-Upper Berbice Region (Region No.10), a release from APNU+AFC said yesterday.
Addressing a public meeting at the Atonement Primary School, Ebini, Upper Berbice River, the release said that Granger assured residents that there would be serious education restructuring under a new administration if the APNU+AFC coalition was to win the upcoming elections.
"The single biggest problem at the national level, which has dire implications for the future, is the broken public education system", Granger said, adding "our teachers are integral to the reform of Guyana's education system.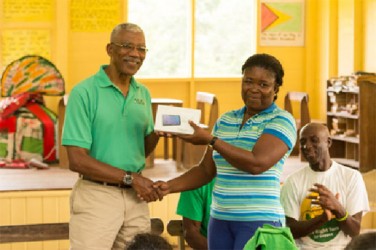 He added that in order to achieve the level of skill necessary to develop a competent workforce, the Coalition believes that there must be strict procedures to identify suitable candidates for teacher training. Granger was accompanied by APNU MP Annette Ferguson and others.
During the meeting at the Atonement Primary School, Granger presented a tablet to the school's headmistress Claudia Monah-Morris.
Around the Web