Navindra Mohabir yesterday testified that murder accused Devon Thomas and Randy Isaac, both of whom he knows well, were the men who stabbed and beat both him and his now dead brother, Kumar Mohabir.
Mohabir was at the time testifying at the trial of Thomas and Isaac, who are charged with his brother's murder at Vlissengen Road, Georgetown on Mashramani night, 2013. The men have denied the charge that they murdered Mohabir, 25, of Enterprise, East Coast Demerara, who died of multiple stab wounds.
But Navindra Mohabir told Justice Navindra Singh and a 12-member in the High Court yesterday that as he stood on Vlissengen Road, some distance away from Kumar on Mash Day, he observed a number of persons attacking his younger brother. At this point he said he intervened and he was attacked, beaten and stabbed also.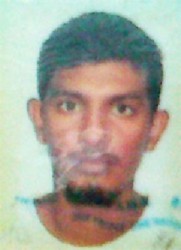 He said with the assistance of some other persons, he took his brother to the Woodlands Hospital, where they both received medical attention. However, Kumar later died in the wee hours of the morning of February 24.
According to the witness, while receiving medical attention, he saw Thomas come into the hospital as well. He said after he was recognised, Thomas immediately ran out of the hospital.
The man said he asked the nurse who was attending to him for an excuse and immediately followed the accused out of the hospital and saw him entering a car, which drove away.
The witness also recalled pointing out both Thomas and Isaac on an identification (ID) parade.
Mohabir, who gave his occupation as a minibus driver, said he knew both men well as they would travel with him on a regular basis.
He said he knew them since 2010 and also from attending the Apex School and liming on the road around the school, from where his bus would pick them up from time-to-time.
He said as he plied the Georgetown to Better Hope route, the young men would travel with him whenever he passed and they were travelling.
Navindra said on the night he and his brother were attacked with glass bottles, he pulled Thomas off of Kumar, at which point he saw the accused's face and began cuffing him.
Asked under cross-examination by Thomas' attorney, Latchmie Rahamat, as to whether persons were dancing around where his brother was being attacked and whether it was not difficult to see people's faces clearly, Navindra said that while there was dancing, he is not mistaken about the identity of the two accused. "I know them well, so I know is them I see from the time I see them. Nobody ain't block me from seeing them. When I see them, I recognise them right away, 'cause I know them," he maintained.
Rahamat advanced that in an interview with reporters after the incident, the witness never said that he pulled anyone off his brother.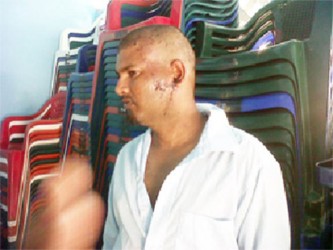 A firm Mohabir, however, responded by explaining that he could not remember everything he would have told reporters nor even if he had told them everything that had transpired. He said that reporters were flooding his mother's home to interview him at a time he was still on medication and recuperating from his injuries.
He, however, sternly cautioned that he had told the police what had transpired in its entirety. "The reporters them is not the police," the witness pointed out.
Asked by Rahamat why he did not raise an alarm at the hospital and tell the nurses that Thomas was one of the persons who had attacked his brother, Mohabir responded, "I don't speak Hindi; surely, if I knew how to speak it, I would have told them."
Meanwhile, under cross-examination by attorney Peter Hugh, Isaac's lawyer, Mohabir disagreed with a suggestion from counsel that he only pointed out his client on the ID parade because he honestly believed that he was one of the persons who attacked his brother.
The witness, however, firmly pointed out, "I ain't honestly believe anything, I know wah I see, and I see them beating me and meh brother."
"Me ain't mistaken when I know them," he added.
At the end of Mohabir's testimony, the prosecution announced the close of its case. The matter has been adjourned to Monday morning when submissions will be heard from the defence.
In her opening address, Prosecutor Stacy Goodings, who represents the state in association with attorney Diana Kaulesar, had said that on Mashramani Day, Kumar Mohabir, who was with his family, was attacked by the two accused, along with other persons.
She added that Mohabir was taken to the hospital where he later died.
Around the Web