Accused of murdering a seven-year-old boy, a man yesterday pleaded guilty to the lesser offence of manslaughter before the start of his second trial for the crime in the Berbice Assizes.
Fazal 'Mongoose' Mohamed, 23, also called 'Boy' of Number 67 Village, Corentyne, Berbice admitted to killing Saheed Muknauth, called 'Buddy,' of Number 68 Squatting Area.
On several occasions, Mohamed had indicated through his attorney, Raymond Ali, that he wanted to enter a guilty plea. However, when he was read the indictment on the previous occasion, he pleaded not guilty.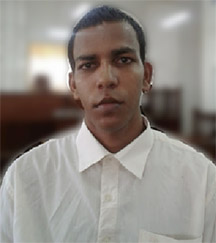 On Thursday, after he pleaded guilty to the lesser count of manslaughter, Justice Brassington Reynolds ordered a probation report for Monday at 9.30 AM before sentencing. When his first trial began, Mohamed had pleaded guilty to the lesser count of manslaughter but he later changed his plea to not guilty and went ahead with the trial. The jury subsequently failed to return a unanimous verdict. Nine jurors had found the accused guilty of the offence, while three found him not guilty after hours of deliberation.
Mohammed was ac-cused of murdering the child sometime around August 20, 2012 behind a rice mill in Number 68 Village.
The child's body was found in a pond behind some bushes by residents, two days after he went missing. His face was damaged and there were cuts about his body.
During investigations, Mohamed had reportedly confessed to the crime and his statement was admitted into evidence during the trial.
Around the Web