By Oluatoyin Alleyne
Photos by Arian Browne
Describing his years in office as "very trying", President Donald Ramotar last evening promised to focus on education, the sugar and rice industries, the housing sector and to improve security should the PPP/C be returned to power come May 11th.
Speaking at the official launch of his party's election campaign at the Kitty Market Square, Ramotar spent a significant amount of his one- hour speech going through what he described as the sabotaging of his government's efforts by the opposition during his three years as President.
"These were not easy years, in fact they were very, very trying years," Ramotar told the large crowd, adding that he had hoped that it would not have been so.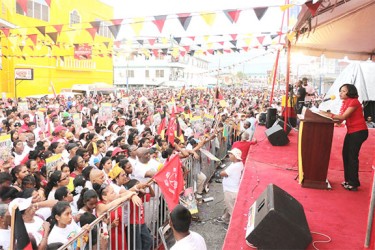 "I really tried, I tried very hard to work with those people, I tried…" he continued while arguing that he could have continued to prorogue parliament until 2017 when constitutionally the next election was due but that his party does not want to be in power when it cannot deliver goods and services.
Those sharing the platform with the president last evening included the party's General Secretary Clement Rohee , its Prime Ministerial candidate Elisabeth Harper and former President Bharrat Jagdeo. Rohee promised that come May 11th the opposition coalition will be dead after being stung by the PPP/C. He also lashed out at sections of the media for "pumping out garbage" about the party and for those in society who are involved in "unfair, unjustified, malicious and mischievous" attacks on the government.
"We have a group of bitter, grumpy, power hungry men who spare no effort to disgrace the PPP," Rohee said, adding that they are disrespectful to the 166,000 persons who voted for the PPP/C in 2011.
Former APNU Parliamentarian Africo Selman, who defected from APNU recently, also mounted the platform stating that she left the partnership over what she described as "emotional and psychological abuse." Had she not left the partnership, according to her she might have been physically abused.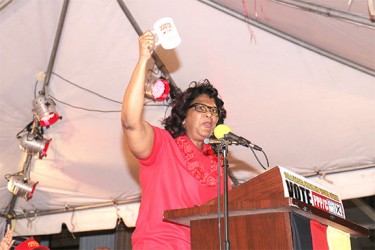 And for the second time, trade unionist Gillian Burton, who once fought against the ruling party, also mounted the PPP/C platform and said that while many would accuse her and people like Selman of drinking soup she had no problem being labelled as such as it meant she had been starving while on the other side and is now being nourished. She said it is not only soup she was drinking but also water, tea drink and porridge, much to the amusement of the crowd which erupted in wild cheering. Burton stated that women no longer have to stand up in long lines for bread and rations and that history should not be watered down when talking to the young who may still be undecided about where to put their x come May 11th.
'Game over'
The final speaker at the rally, which saw many flag-waving and banner-shaking Guyanese, the President was hard-pressed to hold the attention of the crowd and with every passing minute more and more persons
left as he chronologically listed all he said the opposition did to stifle progress. At some point even those who were on the stage seemed more interested in their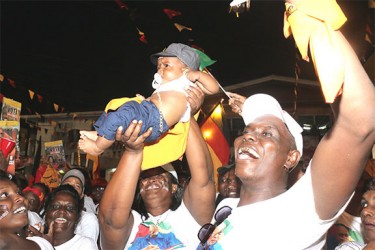 smart phones than what he had to say.
Declaring that come May 11th "[Opposition Leader David] Granger game will be over", President Ramotar condemned the APNU+AFC coalition saying that from the inception of their negotiations their primary focus was always on power rather than the development of Guyana.
He said that character is important for people to serve in high office and singled out former PNC Finance Minister Carl Greenidge whom he described as an "economic jumbie" as he was one of the worst finance ministers this country has ever seen.
Former Commissioner of Police Winston Felix's track record was also criticized since according to the president he could not "catch a thief" when he was head of the force. Felix served under the PPP/C government and is now an APNU member.
"One week after he left office the police break up the gang in Buxton and saved the people in Buxton who were held hostage by those criminals," Ramotar said of Felix while referring to a taped conversation of Felix's which had been made public.
"These are the people who want to run our country, we cannot afford [this] because elections is about the future," a by now hoarse Ramotar said.
Speaking about what his party has planned for the future, the president said they want to work to build "a prosperous and modern Guyana, a modern economy."
"We want to create a new knowledge-based economy and that is why so much is being spent on education to attract more investors with a highly skilled work force."
He said the government has already identified the money to do a new road connecting the East Bank and the East Coast, linking the two airports in the process. A new road from Parika to Bartica will create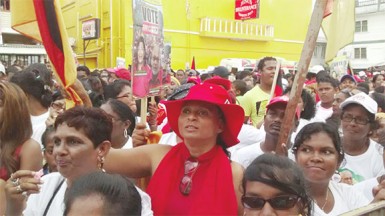 thousands of highly paid jobs and not only labour intensive jobs but also technical jobs. He promised that the party would continue to keep the cost of living down and ensure the standard of living goes up yearly in a secure environment. The president also touched on his 15-point plan to improve the Guyana Police Force.
"We want to ensure that when you pick up the phone and call the police…that they must be there in half an hour [from] the time you called them…because we believe they would catch criminals in the act…"
Vision
For her part Harper, who stuck to what she said are plans included in the party's manifesto, said that she chose to join the party's campaign because of its vision.
"A vision of a Guyana built on human decency, national pride and an unwavering commitment to build Guyana together, regardless of race, religion or political ideology," Harper said.
Accompanied to the podium by her husband, Mark and their daughter, Harper was well received by the crowd but had difficulty in holding its attention.
She said the PPP/C has steadfastly built a better Guyana in the past two decades but that it is conscious that more needs to be done to ensure more jobs are created.
Included in the party's manifesto, Harper said, is a plan to establish a regional industrial site and for incentives to be given to employers for job creation opportunities. The party would also see the development of entrepreneurship and apprenticeship programmes and the establishment of business development services.
"Our population must be able to enjoy a higher quality of life in an environment that is safe and secure," Harper said while saluting members of the police and military who go beyond the call of duty in the execution of their job. She said their welfare would remain a top priority.
Speaking directly to the young, Harper said her party's vision is to create a strong and vibrant Guyana in which youths will play a vital part. She called on them to stay and help build the country stating that the PPP/C's manifesto will include incentives for the employment of young people.
The prime ministerial candidate, who recently publicly said she was a victim of domestic violence during her first marriage, said that there should be zero tolerance for domestic violence which she said destroys a woman's self-confidence, the family and everything about "who we are as a society." According to her should the PPP/C be returned to office it would establish a special crime unit to address issues related to domestic violence and child and sexual abuse.
Harper, who was also a teenage mother, said that the party would ensure that teenage mothers are given the support to lead a productive life. Other issues that will be addressed in the manifesto, according to her, are those surrounding the elderly, the disabled and those who are nearing retirement age to ensure that they continue to contribute to the country's development.
"Once elected you have my personal commitment that I would continue to build on the foundation laid by the PPP/C and President Ramotar to deal with these issues that are so close and personal to me," Harper promised.
Around the Web