Laxity on the part of prison wardens is leading to weapons and other banned items being accessed by inmates, according to former Police Commissioner Winston Felix, who says officers must treat security as though their lives depend on it.
"It starts with the prison officers themselves and to curb the problem they need to be vigilant of themselves and their own comrades," Felix told Stabroek News.
His comments come in wake of the recent chopping of an inmate by two others at the Camp Street Prison and the recording of the attack by other inmates on their cellphones.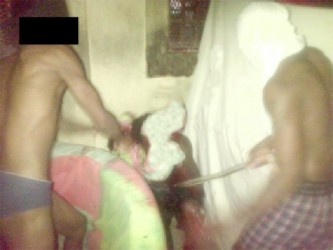 It was not the first time an inmate was hurt by another who was armed with a weapon. There have been cases at the prisons at New Amsterdam and at Mazaruni. In addition, several inmates have recently been charged with ganja trafficking and more recently a prison warden.
Efforts to contact Director of Prisons Welton Trotz and Minister of Home Affairs Clement Rohee for comment on the situation were futile.
However, a prison officer told Stabroek News that he is concerned over the security of prison staff given that the attackers had the cutlass used in the recent incident hidden in the Camp Street facility.
"I am worried because this is not the first time or 100th time inmates are found with dangerous weapons," the officer said.
"These guys know to stash things in places and on their person that you won't dream, can't imagine that it would fit… when there is an impromptu raid, we as wardens are left in shock. Whatever is on the road and you want it, they have it here. I wouldn't be surprised if one of them emerge one day with a gun," the officer added.
The officer said while the use of cellphones is prohibited, it was in common use in the prison and charges to speak with persons on the outside would range from "food to favours."
The prison warden said stricter measures are needed at the prison and this includes thorough monitoring of all personnel because some of them are lax.
"There needs to be stricter security measures taken, even with staff, because some of the things the guys have here, where do you think they got them?" he asked.
Felix also emphasised that the responsibility for the situation lies with the prison staff. "Prisoners don't control the prisons; it's the officers that do. And, if they don't, properly, then that is what will happen. It is simple as that," he stressed.
"Security is a personnel issue and prison officers must take it on as though their lives depend on it… all this nonsense about phones and weapons in the prison, it is because of their lack of vigilance," he added.
While stressing that the prisoner to warden ratio affects monitoring, especially during recreation or "yard time," Felix said that security still depended on the vigilance of officers. "When they are in the yard, you might have instances of someone throwing something over the fence at Camp Street but it still comes back to an officer allowing that item to go undetected," he stated.
As a result, he said that cameras can be placed strategically to monitor the four streets that border the Camp Street prison.
He said too that cameras should be placed at the entrance of the facility, where items are received for inmates and those recordings should be monitored by a difference crew from those undertaking checks.
Felix said rogue prison wardens give the many officers who are honest and by extension the prison service "a bad name" and he called on staffers to be more attentive about their environs when on duty.
"Too often, we see prison officers before the courts for various charges of smuggling. It has to stop and when they are vigilant of their comrades, then and only then we will see a lessening of these incidents," he stated.
Around the Web