A four-year-old boy died yesterday after he was struck down by a minibus along Water Street, in Georgetown.
Jayden Charles, a Starters Nursery School student, was hit as he was about to cross the road, close to his home on Water Street around 1:35PM.
He was struck by a route 45 minibus, which was allegedly speeding at the time. The driver has since been arrested and is in police custody.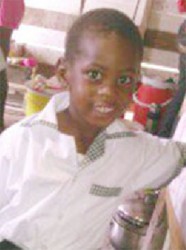 According to relatives of the child, the driver attempted to speed away but was abruptly stopped by a social worker who was a passenger onboard the bus. The social worker reportedly reprimanded the driver, forcing him to pick up the injured child and subsequently transporting him to the Georgetown Public Hospital.
However, soon after at the hospital the loud wails of the boy's relatives erupted.
Jaden's mother, Omela Charles, was inconsolable and she had to be revived several times after falling unconscious as she kept shouting for her "miracle baby."
"He is meh miracle baby. Ah really had a hard time fuh get he and meh had to get cut and meh can't get any more children," Charles cried.
She told Stabroek News that the last words of her son were, "Mommy don't lef meh."
The woman said she stood beside her son and was holding his hand, which became very cold just before he took his last breath.
The distraught mother said she was in N & S Mattai & Co. on Water Street at the time of the accident.
Upon leaving the store, she was informed that her son was struck down. A friend transported her to the hospital, where she found Jayden receiving oxygen. She said he was panting for breath as the doctors were trying to help him breathe.
Jayden's older sister said she was at home when her brother absconded with another child. She learned that he was about to cross the street in the vicinity of Giftland OfficeMax when he was hit.
The grieving sister noted that from time to time, close watch was kept on the child to make sure that he did not venture out of the yard but she said nobody was aware when Jayden left the home yesterday.
Jayden's sister further expressed disgust at the rate at which the minibus drivers would speed through the area and their fuss to get passengers without exercising caution for the children who might be on the road since school is closed.
She said she was told by passengers in the bus that it was going at a fast rate and the driver did not realise when he hit the child.
The distressed sister said that before relatives arrived at the hospital, her brother was fully conscious and had already given his name to the doctors.
Jayden is survived by his four siblings and his parents.
Around the Web