An Enmore youth is now hospitalized after he was repeatedly stabbed by two men who he reprimanded after they attempted to search his pocket during a 'chic chic' game at Foulis, East Coast Demerara.
Ameer Balgobin, 19, a seaman is nursing seven stab wounds about his body, one of which left three of his fingers lifeless. He was also punched to his jaw and sustained other wounds to his back, stomach and face. His attackers fled leaving a Rambo knife stuck in his body.
With a swollen face and bandages about his body, the wounded man from his hospital bed yesterday, recounted his ordeal which happened in the wee hours of Tuesday morning at a barbecue at 18th Street, Foulis. "About 1:30, I was near the chic chic board when them come and feel me pocket and ah tell them soldier man, move from here," said Balgobin. He said that his response might have angered the men who went away and returned armed with a knife and began stabbing him from behind.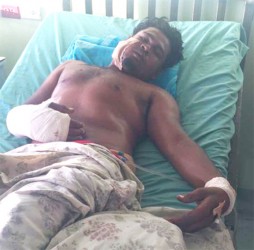 The injured man said that he saw his attackers at the barbecue but hadn't any issue with them.
Although he attempted to escape the blows by running from the attackers, they pursued him, Balgobind said.
He added that he was defenseless since he could not find a weapon to protect himself.
Balgobin's father told Stabroek News that he visited the Enmore Police Station Tuesday evening but he was told to return the next day since the investigating rank who was dealing with the matter was not on duty at the time. The distressed man said that he returned yesterday morning to the police station and was told that the officer will visit the hospital to obtain a statement from his son but up to last evening, the rank did not keep his promise.
Around the Web