Director of the Imam Bacchus & Sons conglomerate Samad Baksh on Wednesday said that his company has come under attack since he mounted the APNU+AFC platform last Saturday at Anna Regina.
He also denied accusations in one section of the media that he was forcing his employees to support the APNU+AFC alliance.
The report, which was published in the Guyana Times the day after the Saturday rally was "absolutely false" and an attempt to ridicule his character and company, he said.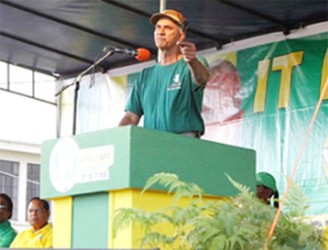 The newspaper, in the article, said that the Essequibo businessman was reportedly forcing his workers to support the APNU+AFC alliance. Baksh was also accused of forcing his employees to wear the party's tee shirt. It was also reported that the employees were paid "extra" if they abided and were being influenced to vote APNU+AFC.
On Saturday, Baksh told the rally that he was tired of the situation when complaints were made to the government, and instead of getting answers, they would be told about how things were before PPP came into government.
"I don't want to hear about Burnham and about 28 years and if I don't want to, much less the young people. I speak to the leaders that we are expecting you to carry out the wishes of the people," Baksh had told the people.
"I think the newspaper (which the articles appeared in) is trying ridicule me. My company is being attacked and so I am," he told Stabroek News on Wednesday.
He declared that the allegations were false because he believed in a person's right to vote for whomever they please. "I believe in that type of democracy. I understand the meaning of an independent mind," he said.
Baksh said that he gave his support to the APNU+AFC coalition because he does not agree with the way the government is ruling the country. "I'm not agreeing with their style of governance," he said, adding that he does not accept the government's "lack of disclosure," and excessive spending of taxpayers' funds.
"I cannot support them," he said, noting that he had supported the PPP in their 1992 campaign to better Guyana but now these matters are causing him to support the APNU+AFC alliance.
In the Stabroek News' letter page on Wednesday, Imam Baksh, Personnel Officer of Imam Bacchus & Sons, wrote: "I will confess that I have seen our managers campaign to change their employees minds…to eat healthier and stop drinking and other destructive behaviours…But we at Imam Bacchus & Sons have never threatened or bribed anyone to support any political view."
He stated that their employees were of mixed ages, races, gender, religions and political affiliations and "we enjoy it that way."
"This company encourages independence of conscience in all things and at the end of the day we all sit down around the same pot as friends and family, in companionship and peace," he wrote. He added that the company always encourages its employees to speak as they see fit, stand as they see fit and vote as they see fit.
Around the Web