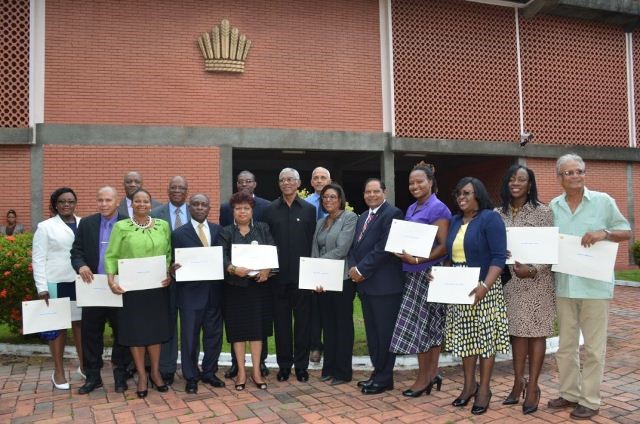 Sixteen APNU+AFC government ministers were sworn in yesterday at the Ministry of the Presidency and President David Granger reminded them that they are all one team focused on ensuring Guyana becomes less divided.
Apart from the 16 ministers, Prime Minister and First Vice-President Moses Nagamootoo was also sworn in yesterday. It is understood that four other persons would be sworn in today.
The names of most of the ministries were changed and some portfolios now fall under the Ministry of the Presidency.
"We are one team and we are committed to ensuring Guyana becomes a less divided country and a less poor country and I am very confident that the ministers who have been sworn in today will give their support to me as President and Mr Nagamootoo as First Vice-President and will continue to work towards ensuring the people of Guyana have a good life," President Granger said minutes after the ministers took the oath of office in the presence of their families and friends.
He said that with the political element represented by the ministers coupled with those who support them and the public service, the changes that were promised by the coalition before the May 11 polls would be brought about.
"I am very confident that Guyana is on the road to change and that all Guyanese can expect a good life," he said.
Dr Rupert Roopnaraine was sworn in yesterday in the surprise position of Minister of Education. It had been expected that he would head the Ministry of Natural Resources & the Environment, but this now falls under the Ministry of the Presidency. Dr Roopnaraine, who comes from the Working People's Alliance and would have fought for democracy alongside the late Dr Walter Rodney, is a professor of Comparative Literature and an author. He first became a Member of Parliament (MP) in 1995 and again in 2011 when he was named the prime ministerial candidate in APNU. Nicolette Henry, who has a Master's in Public Health, was named Minister within the Ministry of Education. This ministry also has the portfolios of sports and youth.
Attorney-at-law Basil Williams, who is chairman of the PNC and a senior executive member of the coalition, was sworn in as the Attorney General. Williams has had a long career in the legal field and has served as a MP for many years. Following the death of Deborah Backer he also served as Deputy Speaker of the National Assembly.
Economist Winston Jordan, who served as budget advisor under the previous administration but was forced out, was sworn in as Minister of Finance with the former Minister of Finance under the PNC administration and former MP Carl Greenidge officially taking up the position of Minister of Foreign Affairs.
AFC's Chairman David Patterson, who was once the president of the Georgetown Amateur Basketball Association, is the new Minister of Public Infrastructure with Annette Ferguson, an MP in the last Parliament with the opposition portfolio of Public Health and Disease Control, as the Minister within that Ministry.
The new Minister of Public Health is Dr George Norton. Dr Norton is an ophthalmologist and physician and was up recent the Head of the Department of Ophthalmology, University of Guyana, head of the eye clinic at the Georgetown Public Hospital and a former Toshao of Riverview, Essequibo River, Region 10. Dr Norton has also been a MP for many years. Supporting him in that ministry as Minister within is Dr Karen Cummings who is also a physician and was a former a MP as well.
Long serving MP of the PNC and then APNU, Volda Lawrence was sworn in as the Minister of Social Protection. Lawrence has served in the National Assembly since 1997 and she holds a Master's in Business Administration as well as a Diploma and Degree in Accounting. Minister within that ministry is rights activist Simona Broomes. Broomes, who has been a miner for years, has championed the rights of trafficking in person (TIP) victims and miners in general in recent years through her Guyana Women Miners Organisation (GWMO). Her work would have seen her being named by the US Secretary of State in 2013 as a TIP hero.
Businessman Ronald Bulkan was named the Minister of Communities and his mandate includes local government, housing and water.
AFC member Cathy Hughes was sworn in as Minister of Tourism. Hughes, who is married to prominent attorney Nigel Hughes, is a Media Specialist with extensive knowledge of the Caribbean media and advertising environment. She is a graduate of the University of the West Indies, with a Bachelor of Arts (Hons.) degree in Mass Communications.
Former Chief Whip for the opposition and longstanding senior member of the PNC and APNU Amna Ally was sworn in as Minister of Social Cohesion under which culture also comes. A trained teacher by profession, Ally served as head teacher of the Redeemer Primary School until her retirement and holds a Certificate and a Degree in Management from the University of Guyana.
Still to be sworn in is AFC Leader and attorney-at-law Khemraj Ramjattan as Minister of National Security, AFC member Noel Holder as Minister of Agriculture, APNU member Sydney Allicock as Minister of Indigenous People and AFC member Dominic Gaskin, who is also the son-in-law of President Granger, as Minister of Investment & Business.
Lt Col (Ret) Joseph Harmon, who is also an attorney-at-law, was sworn in as Minister of State. He had been acting as head of the Presidential Secretariat since Granger was sworn in on Saturday.
Around the Web