Attorney Murseline Bacchus, one of the lawyers representing former president Bharrat Jagdeo in the private criminal charge against him, yesterday filed a notice of motion to prevent the magistrate proceeding with the hearing of the matter.
An additional notice of motion was also filed stating that the charge was bad in law.
According to Attorney and former Attorney General Anil Nandlall, the motions were filed during the course of yesterday at the High Court in Berbice before Justice William Ramlal.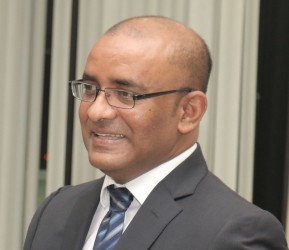 Nandlall said Justice Ramlal granted an order for the magistrate to place all hearings on hold until the determination of the challenge.
The private charge against Jagdeo was brought by attorney Christopher Ram over controversial statements Jagdeo had made at a remembrance ceremony for late president Cheddi Jagan at Babu John, Port Mourant on March 8. Jagdeo was charged with making racially divisive statements in contravention of section 139 D of The Representation of the People Act, Cap 1:02.
At the initial hearing Jagdeo's battery of attorneys had argued for the charge to be dismissed, stating that it was bad in law and should not be allowed since the complaint was not sworn to nor read by a sitting magistrate. Bacchus had argued that the section does not make out an offence hence, there can be no conviction.
However, this was disallowed and when Jagdeo finally appeared before Magistrate Charlyn Artiga at the Whim Magistrate's Court on May 25, an arrest warrant was pending and he was restricted from leaving the jurisdiction without the permission of the court.
His lawyers later petitioned the High Court and the restriction was lifted subsequent to a hearing by acting Chief Justice Ian Chang.
At the last court hearing, Jagdeo was a no-show and a medical document was presented stating that he was unfit to attend the hearing.
Around the Web