Indigenous People's Affairs Minister Sydney Allicock yesterday denied that the current government sacked the almost 2,000 Amerindian Community Support Officers (CSOs) that were previously engaged under the Youth Entrepreneurship and Apprenticeship Programme (YEAP) and said that the former PPP/C administration did not budget for the scheme beyond April this year.
The Amerindian Action Movement of Guyana (TAAMOG) last week filed a lawsuit over the government's dismissal of 1,972 Amerindians who it says were previously employed under the YEAP, while charging that it was an act of discrimination.
The opposition PPP/C has also voiced its concerns about the release of the CSOs.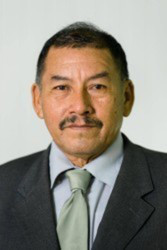 Allicock yesterday told the National Assembly that in the course of the general debate on the 2015 budget, several opposition Members of Parliament (MPs) have alleged that the APNU+AFC government is practising "ethnic cleansing" and specific mention was made about the CSOs.
"I wish to place on record that my government has not fired or dismissed the estimated 1,972 CSOs as is being falsely alleged by the PPP opposition," he said to an uproar from the opposition side of the House.
"I would like the nation to know that this is very, very misleading," he stressed before explaining that the previous government had made no financial allocation for CSOs beyond April, 2015.
He told the House that by a Cabinet decision, dated March 18th, 2015, the sum of $234,240,000 was approved for 1,952 CSOs as stipend for the period January to April 2015.
At this point, Allicock was shouting so as to project his voice above the racket coming from the opposition side.
Allicock who was being urged on by his fellow government MPs, said that "it is clear from the evidence that the former PPP government had severed or cut loose the CSOs. The CSOs need to know that the PPP regime had made no provision to pay them stipends beyond April 2015." He added that it is evident that these Amerindian youths had been recruited under the YEAP, which he called a political scheme. He said the previous administration had used the youths as political activists in the so-called "Red Shirt Brigade" to join picket lines and to campaign for them.
"They were not employed as contracted employees or public servants. They were not provided any guarantee to employment or legal protection as workers. All they were offered on a periodical basis was a stipend of $30,000 each month without any stipulation that the stipend was being paid to persons engaged in training for a specific period," Allicock declared.
In an interview with Stabroek News in July, Allicock had presented a different version to his statement yesterday. He had said that the nearly 2,000 CSOs had been let go as the initiative had not achieved its objective.
"That is 2,000 people; that is only a fraction. You have 68,000 more indigenous people out there who also need help, so we have to look at more education so that eventually everybody would be earning from monies that we have available now. We should invest it in a more strategic way", he had said in July. He made no mention of yesterday's statement that no money had been budgeted beyond April and that it was the former PPP/C government that had ended their employment.
The new government, Allicock said yesterday, is committed to training and job security for all young people, including Amerindian youths. He repeated the statement made by President David Granger, in his address to the National Toshaos' Council Meeting on Tuesday, that, "Young people want permanency not adhocracy. They do not want to be placed on a hinterland 'dole.' They want careers."
Allicock told the National Assembly that with effect from September 1st, YEAP will be replaced by the Hinterland Employment and Youth Service (HEYS) programme and all former CSOs will be eligible to be enlisted for training. He said those enrolled in the new programme will receive relevant skills so as to enable them to earn an income in the pursuit of sustainable livelihoods and as a means to enjoying the good life. Under the new initiative, he added, government hopes to train thousands of young people while paying them a stipend.
The lawsuit filed last week by Peter Persaud, President of TAAMOG and a PPP/C ally, is seeking, among other things, a declaration by the court that the dismissals were unlawful as well as damages in excess of $10M.
The cessation of the programme was "intentionally done as an act of economic and financial sabotage against the indigenous people of Guyana driven by a political, ethnic and racial motive," Persaud said in an affidavit in support of the Notice of Motion.
Persaud deposed that the CSOs, who are all persons of Amerindian ancestry, were the victims of dismissals that were arbitrary and in contravention of the rules of natural justice. He is contending that the CSOs had a legitimate expectation that their engagement and/or employment under the programme would continue. He also said they had not been given a reason for their non-payment nor were they offered an opportunity to respond to any questions and/or concerns regarding the continuation of their engagement and/or employment.
The Attorney General is listed as the respondent in the suit, which was prepared by former Attorney General Anil Nandlall as well as Euclin Gomes and Manoj
Around the Web