A young farmer was yesterday afternoon discovered dead at his Good Hope, East Coast Demerara (ECD) home with injuries to his head and the police are treating the case as a suspected murder.
Dead is Shariz Ali, 22, of Lot 2 Good Hope Railway Embankment, who was discovered by his mother, Bibi Shaliza Hamid about 1.30 pm yesterday.
Ali, who was the lone occupant of the two-storey wooden house for the past few years, was last seen alive on Sunday evening by residents.
Crime Chief Wendell Blanhum told Stabroek News that the case is currently being treated as a murder although the police are awaiting the results of a post-mortem examination. Blanhum said it appeared that Ali sustained several blows to the head and about his body with a blunt instrument.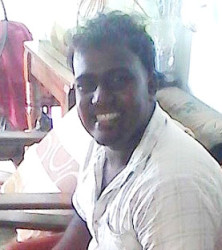 A section between two beds in Ali's bedroom, where he was discovered, was charred and according to Blanhum it is suspected that an attempt was made to set the house on fire. A significant amount of blood was also visible at an open section of the bottom flat.
This newspaper was told that items in the man's living room and bedroom area were scattered, leading his relatives to believe that a scuffle may have taken place between the young farmer and his assailant/s.
At the crime scene yesterday, a number of villagers and passersby voiced their shock at Ali's death.
He farmed cash crops in his yard and on the land located next to the house and many residents described him as a friendly and willing person.
They were unable to say if anyone visited him after Sunday afternoon but noted that it would not be a usual occurrence.
Hamid, who broke down in tears constantly while being comforted by family members and friends, said she last saw her son alive on Saturday, when she visited his house.
The woman, who said they shared a very close bond, noted that they last spoke on Sunday evening and Ali gave no indication that anything was wrong.
"He does tell me everything. If he want go somewhere, he does call and say, 'Mommy I going' here… 'mommy I going' there, anything he does tell me," Hamid added.
She said she had been constantly trying to contact Ali on his cellphones yesterday morning but her efforts were in vain. The phone calls went unanswered but on some occasions the line was busy. "He got two phones and I did trying all two and [they] keep ringing out and then a girl answer and tell me is wrong number," Hamid recounted, while noting that she also sent a message saying she wanted to hear from her son.
She said she was not aware of her son being involved with any woman and she emphasised that she would have been aware if he had been involved with anyone.
After her many efforts of getting in contact with Ali proved futile, Hamid left her home in Stanleytown, Berbice for his house, where she found him face down on his bed in his bedroom. "When I see that I couldn't do nothing more, I just run out and start holler and all the neighbour come," Hamid said.
A hammer, knife and cigarette packets were among the items recovered by detectives. Blanhum said two cigarette butts were discovered on a table and they would be preserved for DNA testing.
Hamid said she was unaware of her son either smoking or drinking alcohol, given that he was a devoted Muslim. "He ain't even got bad friend. He does do he lil wuk and live well with neighbours," she added.
Around the Web