"We cannot sell out. We cannot give away. We cannot offer the adversary any corridor or any passage." Commander in Chief, President David Granger made that declaration, this morning, as he lauded the Guyana Defence Force (GDF) for the completion of Exercise Greenheart, a tactical exercise, in the Cuyuni-Mazaruni area, a release from the Ministry of the Presidency said.
Granger's statement signals that Guyana is not inclined towards any kind of compromise with Venezuela on the border controversy. His statement would also be seen as a direct reference to a recent admission by former President Bharrat Jagdeo that one of the options which was being considered to end the controversy was to grant Venezuela a channel through Guyana's waters. Jagdeo's statement has prompted much comment on what had been shrouded negotiations over several years.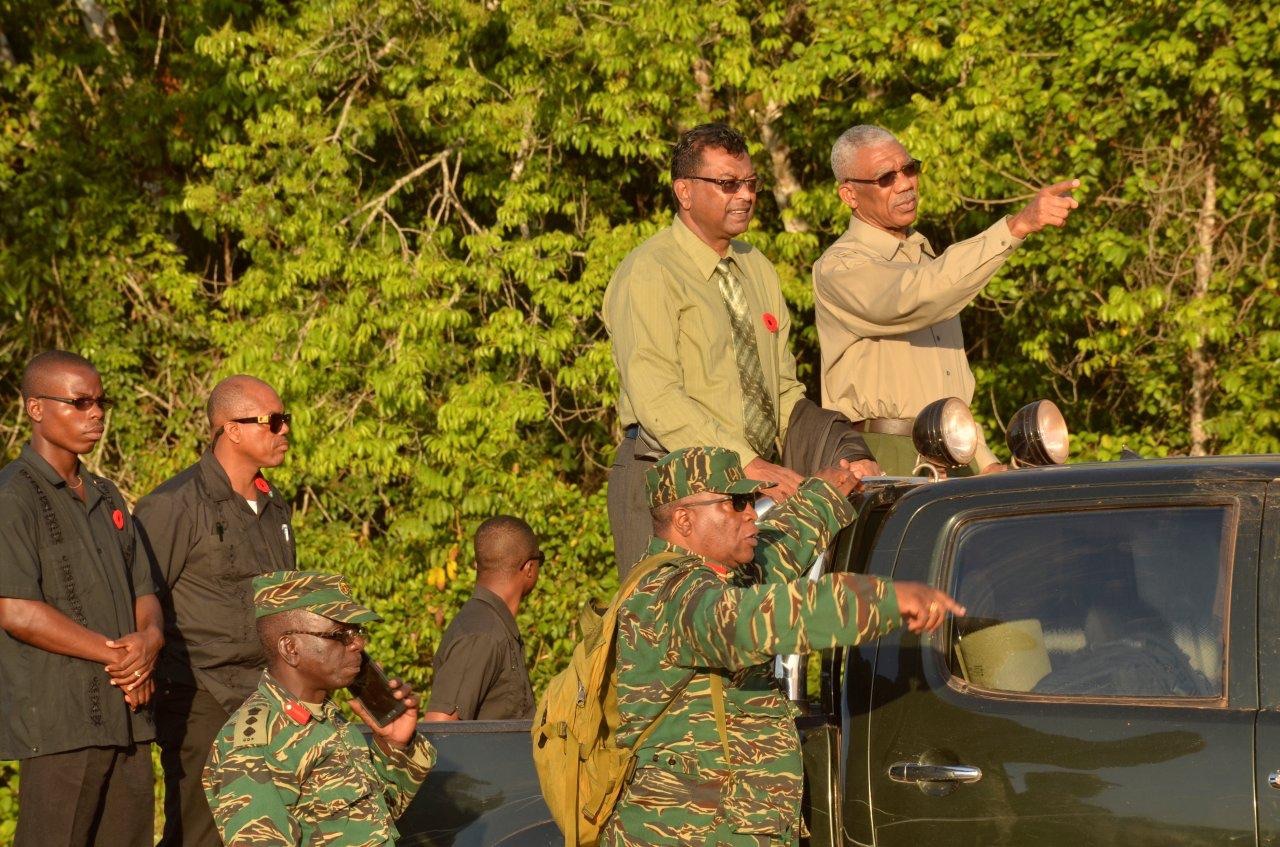 Speaking today, the President said that it is this generation's obligation to ensure that the children of Guyana inherit the country they have inherited. The Head of State made these remarks to members of the GDF and residents of Bartica at the Bartica Community Centre Ground after observing the final attack manoeuvres of Exercise Greenheart.
Describing the exercise as a timely one because of the territorial threats Guyana faces, Granger said, "This is not an offensive operation. This is a defensive operation. Exercise Greenheart is about defending our territory. We are defensive, not aggressive. We are protective, not offensive. We are positive, not negative."
The President said that the GDF have demonstrated that after 45 years of training, they are a jungle force to be reckoned with. He said, "What you have done here today is exemplary." Reiterating the importance of exercises like this one, President Granger said, "People must know that when they come into Guyana to invest, they will be coming into a safe environment that is protected by one of the best defence forces in the Caribbean, the GDF."
The statement said that Granger added that Guyana is committed to protecting foreign direct investments and declared that no country must intimidate or threaten investors. Last week, in his address to Parliament, President Granger had disclosed that Venezuela, through its Ambassador to Ottawa, had sent a letter to Guyana Goldfields Incorporated, which is operating a large mining operation in Aurora, Region Seven, accusing it of infringing on the territorial sovereignty of Venezuela. Caracas has also tried to scare off US oil company ExxonMobil.
"What you have done here today, GDF, is an example to show our foreign direct [investors] that their investments are safe and that Guyana will use every fibre of its State system of its defence forces to protect their investment," the President declared.
Chief of Staff, Brigadier Mark Phillips, in an invited comment, said, "I want to let the Guyanese people know that they have a defence force that is training all the time; that is competent and ready to defend Guyana."
He added that "After the President's speech two Thursdays ago at the GDF Headquarters on the Total Defence Policy, we decided to become more focused on our primary role of defence. This [the exercise] is a part of the efforts to re-orient the troops with their primary role and based on my visit to the positions, I would say that we have achieved the objectives of this exercise."
Colonel George Lewis, Assistant Director of Operations explained in the statement that the exercise commenced on October 20 and said that the troops advanced over 24.5 kilometres for the first three days of the exercise, following which, they took up defensive positions in the jungle. They then engaged in exercises including patrolling, ambush and close target reconnaissance and concluded with the final advance and attack this morning.
Colonel Lewis added, "The purpose of the exercise was to identify deficiencies and at the same time to test the preparedness of our troops to conduct operations in the jungle. We wanted to test our troops to see in which areas we needed to focus on and train them."
The statement added that as part of their training, every soldier in the GDF will have to complete jungle warfare training at the Colonel Robert Mitchell Jungle and Amphibious School (CRMJATS) at Makouria, Region Seven.
Around the Web