The police are analysing seven "suicide letters" allegedly written by human rights activist Zenita Nicholson even as an autopsy yesterday determined that she died of pesticide poisoning.
Nicholson died on Monday morning at the St Joseph Mercy Hospital in an apparent suicide, but following reports of domestic violence, the police launched an investigation.
Crime Chief Wendell Blanhum told Stabroek News that the post-mortem examination was done yesterday and while the pathologist has not given a conclusive report, he has opined that the woman consumed a pesticide. He said the pathologist also handed over stomach contents to forensic investigators and toxicology tests will soon be done on the contents to determine the type of pesticide Nicholson would have consumed.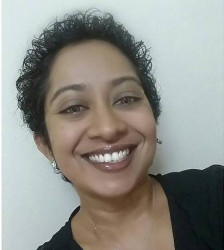 Blanhum also confirmed that investigators found seven "suicide" letters in the woman's home. These are still being analyzed by law enforcement authorities.
Stabroek News understands that the letters were very emotional and addressed to various members of Nicholson's family, including her allegedly abusive boyfriend.
This newspaper was told by persons close to Nicholson that the boy-friend was questioned and released and police have ruled him out as a suspect in her death.
Nicholson's longtime friend Joel Simpson had told Stabroek News that Nicholson confided in him about a week ago that she was experiencing domestic violence and he had encouraged her to report it. He recalled receiving a message from her last week Sunday about wanting to move out urgently. The following day, she confided that her live-in partner was being abusive. She has been living with the man since February and Simpson said from what she shared, there was a pattern of abuse.
The two lived at D'Aguiar Park and Nicholson had indicated that she would have moved back into her South Ruimveldt home. Simpson said he encouraged her to report the abuse and she did so at the Providence Police Station but ranks there told her she had to make the report at the Ruimveldt Police Station since the area fell into that station's jurisdiction.
Simpson was unsure as to whether Nicholson followed up with the report at the second station. He said she later told him that she had spoken to her partner's brother about the abuse and he had instructed her partner to move from the home.
According to Simpson, Nicholson told him she would have remained in the home until her house in South Ruimveldt was repaired. However, he later learnt that she and her partner had worked out their differences and was making another go in their relationship.
The 37-year-old mother of two was well known for fighting for the rights of the vulnerable but more for the Lesbian, Gay, Bisexual and Transgender (LGBT) community. She was once the secretary to the board of the Society Against Sexual Orientation Discri-mination (SASOD). At the time of her passing, she was still a very active member of the organization.
SASOD has expressed shock at her sudden passing and its members are still struggling to cope with the loss of one of their most vocal members. Nicholson was also the Country Coordinator for the Caribbean Vulnerable Communities/PANCAP Global Round 9 Vulnerable Groups Project at the time of her death.
Tributes have poured in from international agencies and friends globally and persons whose lives she touched through her humanitarian works.
A wake will held tonight for her, starting at 6pm, at the Art of Living Centre located on the University of Guyana Road, Turkeyen. It was here that Nicholson used to attend yoga classes.
Tomorrow, SASOD will hold a wake in Nicholson's honour at its office on Charlotte Street, Georgetown.
Around the Web