Talks are currently ongoing to have the Red House lease deal scrapped in exchange for the prime piece of real estate being returned to the State, according to Attorney General Basil Williams.
He yesterday revealed that a proposal has been made for it to be used as a research facility for all former presidents and not just the late Dr. Cheddi Jagan.
Based on Williams' explanation, a civil settlement as opposed to criminal proceedings is being pursued at the moment.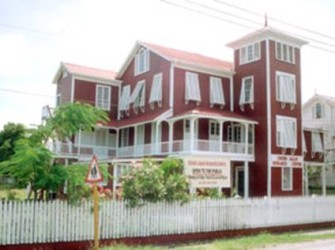 In August, Minister of State Joseph Harmon had disclosed that the PPP/C administration had granted a 99-year lease of Red House to the Cheddi Jagan Research Inc., a private company, at a rate of $1,000 per month. The government had labelled the deal "criminal" and had signalled its intention to investigate it. Williams had earlier this month said that it could attract a criminal charge. The executive members of the company, were identified as senior members of the PPP/C.
During a press conference yesterday at his Carmichael Street office, Williams revealed that a team comprising former longtime PPP executive member, Senior Counsel Ralph Ramkarran and PPP Executive member Hydar Ally visited him a week ago and the issue was discussed.
Williams told reporters that "we are looking to see if it could be resolved, that is ongoing".
Asked how the issue could be resolved he said that "the land has to be returned to the state and the question of the building itself…the building ought not to be used only for the late president Cheddi Jagan. We have other past presidents and all the past presidents really should be dealt with at that building".
Asked if this means that criminal charges are being ruled out, he said "well if the land is returned…in any criminal situation we have an act, a plea bargaining act dealing with these matters".
Pressed on whether he meant to say that no one will be held responsible for what had occurred, he said "no I am not saying that. I am saying that the matter is under discussion".
Asked how the chambers could be engaged in discussions over the lease issue when it is being regarded as criminal in nature, he reiterated that parliament had passed plea bargaining legislation. He said that this case is also a civil matter and could be settled. "As AG I am dealing with the civil side of the matter", he stressed adding that the normal course of dealing with civil matters is that "you settle matters".
Device
According to Williams from the outset he had said that the High Street lease arrangement was a "device to really hide from the eyes of equity the true nature of the transaction that is a sale or give away of the land". He said that a 99-year lease is like a transport. "And if you had to do a transport for a 99-year lease for that kind of property you are talking about tens of millions of dollars so you use the guise of a lease and you charge a peppercorn rent", he stressed.
Williams stated that what transpired with this property was "illegal" because "you were in a public office and you are under a duty to exercise your functions to the benefit of the citizens of the country. You cannot use your office to rob the state because if the value of the land is in tens of millions and you had some device where you alienate that land to another for a couple thousand dollars then obviously it is an unlawful transaction".
According to Williams, it was misconduct in public office on the criminal side and misfeasance in public office on the civil side. "But if you have evidence of misfeasance, you have evidence for the criminal misconduct charge", he said.
He added that he is still in discussions with the PPP about the building being used as a research centre for all the past presidents and does not want to prejudice the talks.
Asked if the PPP/C appeared willing to consider this proposal, he said that "the position of our administration is that the Red House which is state property cannot be used solely as a research centre for one president". Pressed for an answer as to whether the PPP delegation has expressed a willingness to accept this position, Williams said that he did not want to speak on that issue as the discussions were still ongoing.
When asked if he is comfortable with settling this matter, he said that it was not about him as he was merely an agent to deal with the issue. "I am dealing with the issue and I can't disclose anything further on the matter", he said.
In an interview, Harmon had told Stabroek News that government is willing to pursue legal action if necessary. The executive members of the company have been listed as former president Donald Ramotar, Geoffrey Da Silva, Nadira Jagan-Brancier, James Rose, Michael Khan, Kellawan Lall, Mohammed Sattaur and Hydar Ally.
The lease agreement was finalized sometime in 2012 after the then government had spent millions to renovate Red House. It was only after the APNU+AFC government took office that it was discovered.
It would appear that the proper protocol which is a public advertisement was not followed.
Among those who have criticised the deal is former Auditor General Anand Goolsarran who has called for its revocation. "Considering that this building was completely refurbished at enormous costs to the state, the shock was even greater to learn that the property was leased since 2012 to this company for a nominal sum of $1,000 per month for a period of 99 years. To add salt to injury, the staff of the centre continued to be paid by the treasury," he wrote in his Stabroek News column on accountability.
"The agreement should therefore be rescinded, and those responsible should be held personally responsible for this abuse/misuse of public resources, which by definition constitutes an act of corruption," he posited.