In the wake of lingering perceptions that former president Bharrat Jagdeo wants to make another bid for the presidency, his successor Donald Ramotar insists that the two-term presidential term limit is best for Guyana.
"I think with two terms it's enough for any president," Ramotar told Stabroek News in an exclusive interview yesterday.
Ramotar made his position known, even as an appeal of a High Court decision that ruled that the presidential term limit is unconstitutional is pending.
Cedric Richardson, the defendant in the appeal, had petitioned the court on the question of the legality of the presidential term limit created by amendments to Article 90 of the constitution that were enacted in 2001 after the bipartisan constitution reform process. He had argued that barring two-term presidents like Jagdeo from holding office restricts the voters' choice of candidates and such a restriction could only be effected through a referendum.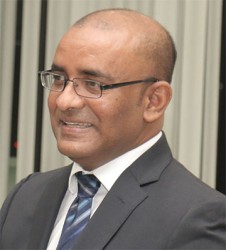 On July 9th, Justice Ian Chang ruled that the term-limit is unconstitutional without the approval of the people through a referendum.
Prior to taking up the constitutional post of Opposition Leader, Jagdeo in the run up to the May 11, 2015 general elections had said that he was not interested in any constitutional office. He had also shot down a petition by PPP supporters but after his party's defeat he recanted and took up the post of Opposition Leader, saying "the base wants me."
Then Head of the Presidential Secretariat and influential PPP Executive Member, Dr. Roger Luncheon had also gone on record supporting presidential term limits.
Ramotar insists that as a party, the PPP still holds firm to its decision of a two-term limit. "This is not about Jagdeo this is about principle. Put aside the man and we look at the principle. We voted in the parliament for the two term limits so that position hasn't changed. The PPP supported that position and personally I am also in favour," he stressed.
In addition, he pointed out that while he was not legally qualified to speak directly to the Chief Justice's ruling he believes that it can be challenged and yield successful results. He also pointed out   that before the PPP/C made the decision to support the two-term limit millions of dollars were spent on countrywide consultations. He added that it was also a constitutional reform committee decision recommendation.
"That is a legal ruling I am not a lawyer qualified to say if it is right or wrong but I am stating what my position is and more so what the PPP decision is and what they voted on in parliament. The PPP has not changed that position and I personally have not changed myself. This position came out of an elaborate process and it was unanimously passed in the parliament. Millions of dollars were spent on consultations throughout this whole country and this was also a recommendation the constitutional reform commission had made," the former President stated.
"His (Justice Chang's) reason for saying that it can't stand is that we should have a referendum. That is his contention. This is although the parliament unanimously approved and voted for the two-term limit. Also, that decision is now the constitution and he is saying that the 65 people in the parliament cannot do that, but that is his argument. Mind you he didn't say if he agrees or not but I think that decision, it can be challenged," he added.
Ramotar posited that having a leader in power for too long leaves the possibility for self- absorption and possibly dictatorship. "There is that danger that the leader can get the power to his head and who knows. I'm not saying it will happen automatically I'm not saying it will with everyone but it (the possibility) does exist and it is there," he stressed.
He went on to add "I think with two terms it's enough for any president because you have a lot of talented people in the party. You need to have renewal, even within the party itself and even if your party is winning the elections all the time, I still think there needs to be continuous renewal, that is why I think the two terms is enough,".
The former president reflected that when the recommendation was made for a two-term presidency he was not in favour but was later persuaded after holistic analysis of the issue. "In the beginning I was not so much in favour. However on reflection over the years I realized that it is the best thing the country can have- that is two terms for the president," he asserted.
He maintains that when the public does its own analysis of the issue it should do with the country's best interest at heart and try not to personalize it. "It is not a personal matter it is a fundamental principle. One may argue that there is not enough time to do everything but there will never be enough time to do everything. I mean there will always be things that are unfinished but tell me when do you say 'Enough is enough'?" the former President questioned.
Around the Web