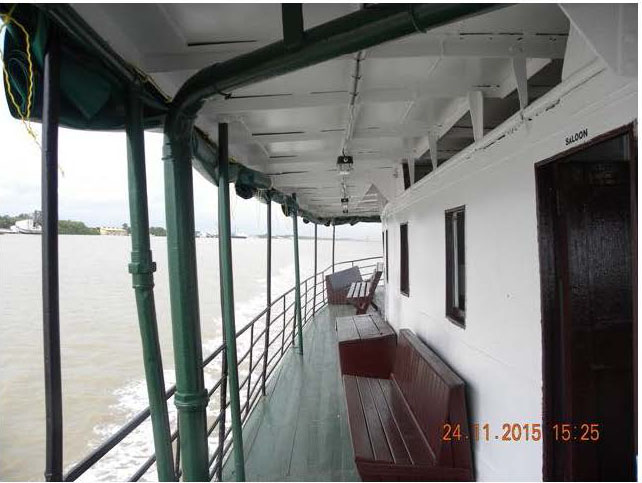 Members of the media were the first passengers on board the upgraded motor vessel Lady Northcote as she took her first test sail on Tuesday following two months of rehabilitation works.
A press release from the Ministry of Infrastructure on Tuesday reported that initially the repairs, undertaken by E.C. Vieira Investments Limited, had been estimated at approximately $70M but due to extensive unforeseen damage the final cost amounted to $140M.
Among the renovations listed on the 78-year-old vessel were repairs to the hull and servicing of all on-board machinery; enhancement of interior and exterior decking; upgrades to the main and passenger decks, as well as the galley and the crew's bed and washroom facilities.
The plates were changed, offloading and loading capabilities improved and safety boosted with the provision of 100 life rafts. The reconstruction of the underwater propellers is noteworthy in that it is expected to reduce travel time for the ferry's route (Georgetown to Port Kaituma) from the previously exhausting 36 hours, the release said.
The hour-long test sail which took place on Tuesday, saw the vessel travelling at a minimised speed from the Vieira dockyard in Houston to the Kingston wharf. Owner of E.C. Vieira Investments Limited Edmond Vieira described the rehabilitation as "brutal and very challenging" while the Chief Mechanical Engineer, Dwane Griffith commended the job done by the contractor.
The Lady Northcote is expected to resume public trips within the next week.
Around the Web