Before the end of next year, government hopes to lay legislation in the National Assembly to set up a sovereign wealth fund, Minister of Governance Raphael Trotman has said.
"Government envisions that before the end of 2016, model legislation will be laid in the National Assembly for scrutiny and debate and…nationwide consultations will (ensue) before, and during, the process of finalizing this policy through necessary legislation," he told a workshop focused on the establishment of a Sovereign Wealth Fund (SWF) for Guyana.
The event was held at the Arthur Chung Convention Centre and concluded on Wednesday. The objectives of the workshop were to introduce policymakers to the existing models of wealth funds, to share experiences, both good and bad, and to prepare stakeholders to commence the process for planning for the expected wealth.
Trotman told the gathering that the APNU+AFC government has embarked on a process of resource management that seeks to recalibrate the country's performance and change its trajectory to ensure a better future. "New fiscal and legal structures that guide the sustainable exploitation of the extractive industries are among the measures being actively examined. We have been offered support from countries and institutions that have experienced some of our growing pains in the extractive
industry and have built their capacity to manage some of the challenges ahead. Some of these countries have also shared their bad experiences as lessons to us of what not to do," he said, according to a copy of his speech made available to Stabroek News.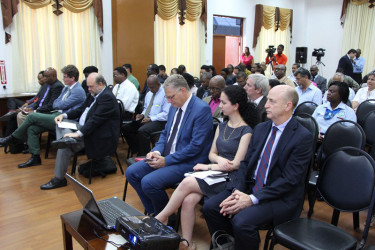 The minister noted that the University of Calgary, of Canada, has established itself as a premier academic institution with a strong Extractive Resource Governance Programme from which, through the support of the Canadian High Commission, Guyana is benefiting.
Trotman noted that extractive industries often generate large economic rents that governments can capture through taxes, royalties, and license fees. "These fiscal measures, while allowing governments to capture a substantial share of the rents for the public, also need to be carefully structured to provide a stable and attractive investment climate. However, the magnitude and the volatility of revenues from natural resources due to issues of commodity prices on the world market and individual sector challenges have led many governments to set up stabilization funds to smooth the macroeconomic and budgetary impacts and to provide sustainable revenues for future generations," he stated.
According to Trotman, the number and size of sovereign wealth funds, globally, is growing rapidly but there is evidence among the 46 odd countries with sovereign wealth funds that many issues arise concerning the governance and operation of these funds, including the funds' objectives, savings rules, the timing of withdrawals, and the spending that they support.
"It is against this background that on the instruction of His Excellency, President David Granger, Guyana's intention is to create a Sovereign Wealth Fund from the revenues gained within its extractive industries," he said.
"These fiscal structures are to be built taking the lessons learnt by other countries, and Guyana's own unique context into consideration. Which strategies and policies maximize the net benefits from resource development projects and how can industry and governments work together to reform poor governance models in favour of greater transparency and accountability are all areas to be explored and answered on this journey," Trotman declared.
He pointed out that Guyana has an abundance of natural resources that go beyond the oil that is to come in the near future, and includes gold, diamonds, sand, stone, bauxite, forest products, and even water which the country has thus far failed to effectively capitalize upon.
He disclosed that earnings from all of Guyana's natural resources will be housed within resource wealth management funds to the benefit of all Guyanese in three key areas namely savings for the future generations; budget support in times of economic downturns; and infrastructure development – such as roads to create better access and improve ease of trade and development within hinterland communities and across Guyana, and schools that ensure meaningful investment in children.
Trotman said that there are more questions than answers and the questions cannot be asked and answered behind closed doors, but are deserving of the full involvement of Guyanese. He said that to this end, Government envisions that before the end of 2016, model legislation will be laid in the National Assembly for scrutiny and debate and nationwide consultations will ensue before, and during, the process of finalizing the policy through necessary legislation.
The minister asserted that Guyana stands ready to accept support to develop its extractive industries, and to ensure that at every level, Guyanese will be intimately and intricately involved.
Around the Web