Roraima Airways Inc on Friday afternoon together with the rest of the aviation community honoured the late Captain Alvin Winston Clarke as they greeted his body, which was flown home from Canada.
According to a Roraima Airways Inc press release, a fleet of airplanes, led by the BK Skytruck, departed Ogle airport for the Cheddi Jagan International Airport (CJIA) to await his arrival. There, scores of aviators formed an honour passage, through which his body was transferred onto the BK Skytruck.
A moment of silence was observed prior to the Skytruck leading the fleet of aircraft for take-off and a fly-over the city of Georgetown before landing at Ogle Airport, where Clarke's family took possession of his body.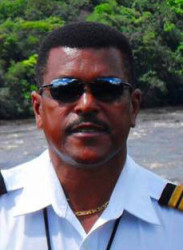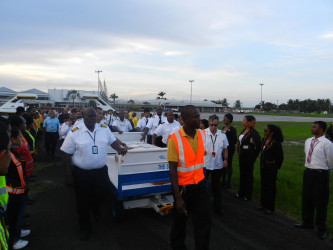 Clarke, a veteran pilot, was one of the most outstanding medical evacuation pilots in the country's flight history and gained the status of 'Veteran Medivac Pilot' during his stint as an officer and a pilot in Guyana Defence Force. He also served as Roraima's chief pilot from April 1st, 2005 until his recent passing.
Captain Gerald Gouveia, Roraima's Chief Executive Officer, said of his colleague, "Captain Alvin Clarke was a real life Guyanese hero. When the nation slept, the people in the far flung areas of Guyana's hinterland knew he was always on standby…. He demonstrated commitment, he demonstrated courage, and he demonstrated exceptional skill and professionalism."
The release said a Night of Reflection, held in Clarke's honour at the Duke Lodge on Thursday, was attended by several prominent Guyanese, including GDF officers, government and opposition officials, members of the aviation fraternity and private sector leaders, who all paid respect to his memory. Nigel Hughes, Chairman of the AFC, gave an emotional tribute when he recounted Captain Clarke's heroism in saving his life in 2014, when he suffered medical complications at Aishalton Village, in Region 9.
A flyover of Clarke's body is scheduled for the day of the funeral as a mark of respect before the burial.
Around the Web