Opposition leader Bharrat Jagdeo yesterday criticised government's plan to seek pre-commercial production payments from oil company ExxonMobil as risky, while warning that it could foster corruption.
"We haven't even gotten the oil proceeds and he wants to spend it. Spend money you don't have, that is the old PNC…," Jagdeo told a press conference, referring to the recent disclosure made by Minister of Governance Raphael Trotman.
"That puts you in ExxonMobil's pocket. Then how can you sit and negotiate?" Jagdeo questioned.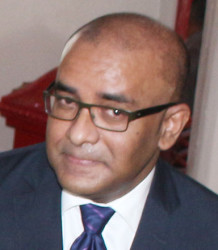 Trotman said last week that government plans to seek pre-commercial production payments from ExxonMobil to fund a number of projects here. He said the president of ExxonMobil will be in Guyana in January to meet President David Granger and, coming out of that engagement, they are likely to sit down and have a discussion on possible payments.
"It is a discussion that we must have. We've looked at other countries where oil companies have made that kind of an upfront payment in anticipation but I think we need to get a better sense now of when they are likely to go to production," Trotman said.
Trotman said he had no idea of the amount government would seek but Jagdeo yesterday said he understands that it would be somewhere in the vicinity of $2 billion.
He said the nation needs to have clarity on government's plan for the money and what will happen if the amounts expected from oil proceeds fall short.
"It is borrowing against future receivables when those haven't even been developed, you don't even know if it will materialise. It's not like we are producing oil fields there… They borrow $2 billion and that project doesn't materialise, what happens then?" he questioned.
In explaining the use of the funding, Trotman said Guyana, as an underdeveloped country, urgently needs some infrastructural projects. "Government wants to open up Guyana so we're looking at things like the road to Brazil, roads into some parts of the hinterland, ensuring, for example, that we have low-cost travel by air or road to some of these places," he said.
However, Jagdeo believes that government's plans for the money are dubious and he questioned why international lending institutions were not approached if money is needed for development projects.
"You know what I believe? The objective of this is that: Do not ask for money from the IDB or do not use that access or others because when you use money from the IDB… there is a cost to that. You have to study the project well, you have to do a feasibility study, you have to get IDB's approval of the money. If they get $2 billion from ExxonMobil…, it would come into the Treasury; they would then not have to go through any of the transparency requirements for using multilateral money," he said.
"They will do what they are doing with the [specialty] hospital now. They will handpick contractors. You can do whatever you want because you don't have to go to tender because there is no multilateral oversight. That is why they are so excited to get money of that nature," he added.
In the interest of transparency, Jagdeo is asking that government swiftly sign on to the Extractive Industries Transparency Initiative (EITI), which is a global standard aimed at improving revenue transparency and accountability in the extractive sectors.
Trotman has said Guyana is moving to get fully on board and he has met with the United Nations Development Programme (UNDP) and the US Energy Department for guidance. The government has committed to complete the formalities for Guyana's candidate status by late February, 2016.
According to Jagdeo, the EITI can safeguard the country from corrupt practices evidenced in other oil producing states.
"The extraction transparency initiative should be signed on to immediately. ExxonMobil has to be forwarded that if it comes to Guyana and engages in any underhand dealing with this government, that we are going to examine all of those. We want full transparency," he said.
Jagdeo noted that there are many cases around the world where large sums of money have been paid off to government officials. "We hope this will be avoided in Guyana but you are not going to avoid it going this route. This is a huge issue for us—a transparency issue—and we need to pay attention to this," he added.
According to Jagdeo, if any agreement is reached for payments ahead of commercial production of oil, the PPP, if it resumes office whenever the elections are held, will be forced to consider whether such an arrangement is a transparent one and whether to recognise it.
Around the Web