In light of the increased shopping during the holidays and poor quality goods on the market, the Consumers Affairs Division of the Ministry of Tourism has launched a campaign to educate consumers about their right to receive quality goods and services.
The campaign, titled "Know Your Consumer Rights," was launched yesterday at a press conference held at the Colgrain House, Camp Street, Georgetown.
Minister of Tourism Cathy Hughes emphasised the importance of educating consumers about their rights, which is clearly outlined in the Consumers Affairs Act 2011 but which many are not familiar with.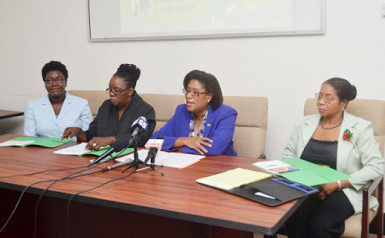 In the past and more recently, Hughes said, some consumers have lamented the wide range of poor quality goods which are available on the market.
"These are goods ranging from utensils to clothing, household appliances, technological instruments, industrial machinery and a whole wide range of other areas…," she noted.
"The troubling part is that this is a hint of disrespect," she adding, while voicing amazement at the attitude of sellers and suppliers of goods and services.
It was recognised that too often the provisions of the law are not honoured, she added. She said that there are two levels of protection for consumers; the first coming from the Consumers Affairs Division and the second being the Competition and Consumers Affairs Commission (CCAC). She noted also that the CCAC is empowered to pursue justice for aggrieved consumers.
Hughes further explained that the Consumers Affairs Act benefits both the buyer and the seller.
"It was meant to build consumer confidence to accept and to pay for only products and services that they are satisfied with.
It also encourages businesses to offer quality products which will encourage customers to return," she said.
According to Muriel Tinnis, Director of the Consumers Affairs Division, it has observed the need for an enhanced education awareness programme to ensure that consumers and investors better understand consumerism and demand.
Tinnis believes that education is key to improving the services offered to the public. She assured that the campaign is in no way organised to lambaste business owners but rather to simultaneously help them in the manner in which the consumers are being helped.
Around the Web