A pensioner was yesterday sentenced to four years in prison and fined $26 million after he was found guilty of a cocaine trafficking charge by a city court.
Canadian citizen Arthur Manget, 69, of Old Road, Land of Canaan, East Bank Demerara, was handed the sentence by Magistrate Fabayo Azore.
Manget was earlier this year charged with having 9.670 kilos of cocaine in his possession on April 8th, at the Cheddi Jagan International Airport, Timehri. The man had been an outgoing passenger on a flight bound for Canada when the arrest occurred.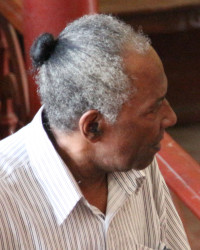 When Manget led his defence during his last appearance in court on November 27th, he had related that on the day he was set to travel, he took his suitcases to a man to collect some pills but when the person returned, they had two different suitcases in their possession. He said that he was told his were damaged, but because he trusted the individual, he accepted the bags and went his way.
Magistrate Azore, during her ruling, pointed out to the defendant that he did not examine the suitcases knowing fully they were not his. She added that he had the opportunity and responsibility to have looked inside knowing such. Based on those circumstances, she found Manget guilty of the crime.
The magistrate said that in her ruling she had considered the mitigating factors—the defendant's age and the fact that he has two children to take care of. She added, however, that she had also had to consider the amount of cocaine that was found and the prevalence of the offence.
As a result, Manget was fined $26,109,000, equivalent to three times the street value of the cocaine, and sentenced to four years in prison.
The defendant, clearly emotional, pleaded for the court to exercise mercy on him, while admitting that he had been foolish not to check the luggage beforehand. He stated that he had been deliberately set up to take the fall.
According to the facts presented by the prosecution at Manget's arraignment, on April 8th, the accused was in possession of two suitcases and a scan of the luggage aroused suspicions about objects that were observed to be concealed inside. As a result, Customs Anti-Narcotic Unit (CANU) officers conducted a search, which uncovered the drugs.
Around the Web