The Ministry of Tourism in collaboration with Guyana Tourism Authority (GTA), Canawaima Authority, Ministry of Public Infrastructure and other entities has commenced a programme to improve the customer service and physical appearances at Guyana's port of entry.
According to a press release from the ministry, the operation which is being spearheaded by Director General of the Ministry of Tourism Donald Sinclair, December 19, conducted informal training sessions to sensitise the workers, minibus drivers and conductors at Moleson Creek.
In addition to the training, the team which included several Tourism Development Officers, distributed uniforms—t-shirts with the country's new tourism brand: "Guyana – South America Undiscovered" to those serving at Moleson Creek.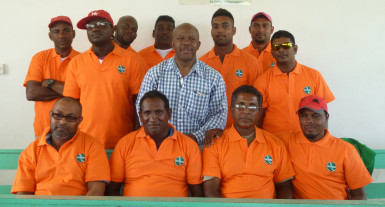 According to the release, Sinclair said it is expected that over the next few weeks, the ministry will engage the relevant authorities and lay out proposals for the further enhancement of the facilities and improvements in the quality of services.
In addition, the GTA has commenced a language programme for frontline operators to improve their abilities to communicate in Dutch and Portuguese. There is also additional customer service training scheduled for the frontline staff as well.
Part of the ministry's efforts included treating the passengers arriving on the early morning ferry of the December 19 to the traditional Christmas cake and ginger beer. The beverage was distributed with the compliments of Banks DIH Limited.
The terminal at Springlands, Corentyne is an important port of entry, the ministry said, and its chief objective is to ensure the physical facilities remain welcoming and the passengers' experience at the Guyana terminal is always hassle free and orderly.
Around the Web