If there is one wish that 12-year-old Reaha Mangru of Zeeburg, West Coast Demerara would like to have granted this Christmas, it would be to save the vision in her left eye.
Unlike other girls her age who are enjoying the Christmas season, it means nothing to Reaha. The only request she made is for her older sister, Priya to buy her a doll.
Reaha was "born blind" in her right eye and was told that she would lose sight in the left eye as well.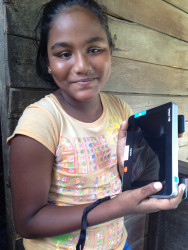 Family members only learnt that she was born blind in that eye when she went to India in September to undergo surgery to remove "a growth."
She developed the growth over the eye at age seven while attending the Saraswat Primary School. Her mother started taking her to the eye clinic at the Georgetown Public Hospital Corporation (GPHC) but there was no improvement.
Two years later her mother died and the child stopped attending clinic because her father, a fisherman was away at sea most of the time.
Priya took the responsibility of caring for her and her brother, nine-year-old Navin. What is remarkable is that Priya had even cancelled her plans to get married so she can be there for her siblings.
Priya felt her sister's worries would be over and she would have vision again, when a "family friend" from Canada, Lachmin visited earlier this year and offered to help.
Lachmin works for Dr. Jeanette Singh of the Three Rivers Kids Foundation which assists children in Guyana whose parents cannot afford to pay for medical care.
She made all arrangements for Priya and Reaha to travel to India, via Canada for the surgery, which they believed would change her life.
They were devastated after learning that the problem cannot be corrected because it was "genetic." The surgery was nevertheless performed to remove the growth so her eye can at least look normal.
The thought of her losing vision in the other eye as well and not being able to see at all has gotten Reaha very distressed and she has been "crying a lot." It pains her to know that her world would soon become dark.
But Priya said they are not giving up hope and are "praying a lot for a miracle to happen and that God would save her sight."
While in India, Dr. Singh purchased a device for Reaha – an Optelec, which helps visually impaired persons to read. Not being able to attend school, the girl has found it very useful.
Around the Web