ANSA McAL Trading Limited introduced ABCD Diapers at its annual tradition of sharing "Bundle of Joy" hampers to all babies born at Georgetown & Woodlands Hospitals on Christmas Day, a release from the company said on Saturday.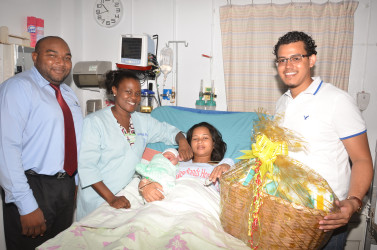 ABCD Brand Representatives Joel Lee and Leon Fitzpatrick made the presentations.
The ABCD diapers promise performance with a great price. This is the first year ABCD has supported all mothers with the special gifts of "Bundle of Joy" hampers, the release said.
ABCD hampers were presented to all mothers who gave birth on Christmas Day in Georgetown.
Large hampers containing 140 diapers were presented to the mothers of the first baby boy and girl at the Georgetown Public Hospital Corporation, while all other hampers contained 112 ABCD diapers. In addition to the babies born on Christmas Day, the ANSA team gave samples of the new diaper to all mothers in the ward.
ANSA thanked the Management and Staff of the GPHC and Woodlands hospitals for their support in helping to make the "ABCD Bundle of Joy" Presentation on Christmas Day 2015 a success.
Around the Web