A month after being admitted to the hospital due to injuries sustained in a road accident, bread vendor Joseph Jaipaul of McDoom, East Bank Demerara died on Sunday.
Jaipaul, 58, was in the Intensive Care Unit of the Georgetown Public Hospital (GPH). He leaves to mourn his wife Iris and three children.
Stabroek News was told that Jaipaul, the sole breadwinner of the home, rode all the way down to Canal Number One, West Bank Demerara through La Parfait Harmonie and to La Grange as part of his work as a vendor to support his family. This, his wife said, he did for years.
According to his son Anand, it was while on his way to work on November 28 that Jaipaul was struck off his bicycle by a bus that swerved and hit him.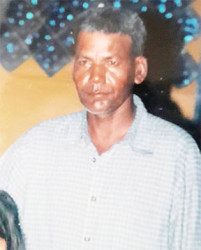 Among other injuries, Jaipaul sustained broken legs, injuries to his spine, broken ribs and a punctured lung, which resulted from the rib damage. His entire body was paralyzed and the man was unconscious for the majority of his month-long stay at the GPH. Stabroek News was informed that Jaipaul passed his 58-year milestone on November 16 at the institution.
Jaipaul's wife became emotional as she recounted a visit to her late husband where it was evident he was losing hope in pulling through his ordeal.
"I remember one time I talk to he, I seh, 'Paul, feel good baby, I want yuh home'…he shake he head no," she said.
Christmas, the woman said, was very hard. "A dark time," was how her younger daughter Rekha described it.
The holiday was spent visiting the hospital. At about 2 pm on Sunday, just two days after Christmas, Jaipaul, who the family had been told had a 50/50 chance of survival, succumbed to his injuries.
When Stabroek News visited the family's home yesterday, they were in the midst of preparations for the wake. Dwayne Bennons, the driver of the vehicle that struck Jaipaul was present and assisting with the arrangements. His wife and children were there as well.
Bennons later shared that he has great regrets about the situation, which he described as a very difficult one and one which he wishes he could go back and change.
He expressed his eagerness to assist the family in any way he can, noting that although he is not wealthy, having children of his own, he knows just how difficult providing for a family can be. Bennons is a father of five young children.
Iris had earlier shared how helpful the driver has been since the accident. She said he had picked her husband up and taken him to the Diamond Hospital and since then has been around, offering assistance.
The man was arrested but released 72 hours later on $100,000 station bail.
When asked, the Jaipaul family appeared unsure as to whether they would be taking legal action against Bennons.
Jaipaul was described by his sister Kavita as "loving", "caring" and the "most hard working" man she knew. His daughter Rekha, too spoke fondly of him, stating that her father, in his bread selling exploits, rode "from here straight to Canal Number 2 at the end to build what he have here."
Around the Web