CARACAS (Reuters) – The mayor of Vene-zuela's capital Caracas will fight charges of plotting violence against the socialist government, his lawyer said yesterday, denouncing the accusations as baseless. Intelligence agents seized 59-year-old Antonio Ledezma, a trained lawyer, at his office on Thursday night. He was indicted the next day on conspiracy charges against President Nicolas Maduro and is held at the Ramo Verde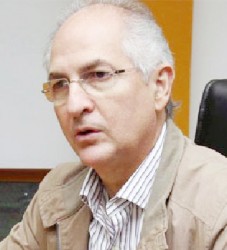 military prison, where fellow hardline opposition leader Leopoldo Lopez has been jailed for a year. The opposition said Ledezma's arrest indicated an increasingly unpopular Maduro was cracking down on dissent to hold on to power and distract citizens from chronic shortages of basic goods, the region's highest inflation, a recession, and sky-high crime.
But Ledezma's lawyer Omar Estacio says he believes in Venezuela's justice system and he planned to lodge a first appeal as early as Monday or Tuesday.
"We're going to appeal the judge's decision," he said. "I feel very confident that the Venezuelan justice will rectify this because these charges are truly unfounded."
Officials have said a public document signed by Ledezma and two other opposition leaders urging a transition is a roadmap for an uprising. They also said he was among various politicians supporting a new plot with dissident military officers to topple the president via air strikes.
Around the Web