BRASILIA, (Reuters) – Brazil's top prosecutor asked the Federal Supreme Court yesterday to open investigations into politicians who allegedly benefited from a multibillion-dollar kickback scheme at state-run oil company Petroleo Brasileiro SA , a court official said yesterday.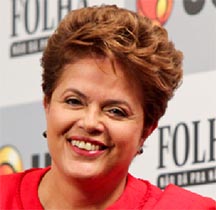 The request for authorization to probe politicians expands the country's biggest corruption scandal to the political realm, further rattling President Dilma Rousseff's administration at a time when it is already struggling to contain the economic fallout from the case.
The official, who asked not to be named because the case is still under secrecy provisions, said Prosecutor-General Rodrigo Janot asked the court to authorize 28 separate investigations into 54 people, many of whom are expected to be politicians.
Janot's office did not release the names of the politicians to be investigated, but plea bargain testimony by defendants in the case leaked to local media indicate that most are members of the ruling Workers' Party and coalition allies in Congress.
O Estado de S. Paulo and other newspapers said the list includes Senate President Renan Calheiros and Speaker of the Chamber of Deputies Eduardo Cunha, both the top leaders of Congress and members of the PMDB party, the largest ally in Rousseff's ruling coalition. None of the papers said how they obtained the information.
Under Brazilian law, politicians and cabinet members can only be tried by the Supreme Court. The judge in charge of the case must decide whether to lift a secrecy provision and release the names and plea bargain statements.
The politicians were named by a former senior manager at Petrobras and a black market currency dealer whose arrest last March triggered an investigation into the funneling of money from overpriced infrastructure contracts into the pockets of corrupt executives and politicians.
Some of that money, prosecutors say, may have helped finance election campaigns for political parties, including Rousseff's Workers' Party and other members of her governing coalition.
Around the Web