St Lucian Prime Minister Dr Kenny Anthony has called for the reconfiguring of CARICOM to propel development and integration in the region and said that real political power must be devolved to it along with the ability to sanction.
Delivering the UWI Distinguished Open Lecture on Monday at the St Augustine Campus, Trinidad, Anthony traced the development of the regional integration movement from its beginnings and noted its shortcomings and unfulfilled expectations.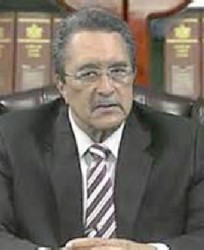 Outlining his vision of a rejigged CARICOM, Anthony said that it must see its role as a partnership not just with the regional governments but also with the private sectors and civil societies in member countries.
"This perception is vital to propelling the integration movement forward and locating it not in the realm of Government where it is in danger of dying, but in the hearts and minds of Caribbean people", Anthony said in his lecture entitled `Delivered or denied: The dividends of integration'.
This alone, he asserted, would help to bring CARICOM into the engine room of the regional economy in a manner that would heighten its presence in the daily lives of the larger population.
"It is vital then, that CARICOM's presence as development partner be projected outward, to a whole new generation of Caribbean people who know nothing of Williams, Manley, Barrow and Burnham, so that in their young minds and hearts, CARICOM becomes less a repository of arcane rules and regulations, and more the custodian of an ideal that transcends the small circumferences of individual islands", Anthony declared.
When necessary, he said that CARICOM must have the power and the resources to lead.
"This is especially true when difficult and potentially divisive issues come to the floor. As some stage, real political power needs to be devolved from the periphery to the centre providing that it has the resolve to act decisively", the St Lucian PM said. Integrationists have for decades raised the question of the conferring of power from regional governments to Caricom.
The West Indian Commission report of 1992 had envisaged a Caricom Commission with executive powers. This was not acted on neither was the Rose Hall Declaration of 2003 which addressed governance issues. Caricom is now in the midst of a reform process which will see a five-year strategic plan for the community and a transformed Secretariat.
CARICOM, Anthony argued, will not prosper if it is simply the sum of its weakest parts.
"CARICOM, ever respectful of the positions of member governments, must not shy away from its role as the principle catalyst of the regional movement.
Where strong economic argument is required, it must be made. Where moral suasion is required, it must be applied, and where sanction becomes the only remaining option that too must be deployed fairly and justly. For too long, progress at the regional level has been at the pace of the slowest. This cannot be in our collective interest", Anthony, a former CARICOM General Counsel, stated.
Noting that there was no easy route to integration, Anthony said that nowhere is this more apparent than in the issue of the free movement of people.
"We know that this tenet of the regional integration process is incontrovertible. Yet we allow parochial issues to cloud our judgement instead of holding fast to principle and to the vision of the greater good", he lamented.
He said that Caribbean people arguably enjoy the highest levels of contiguity available to any multi-nation grouping and therefore share the urgent responsibility of moving the regional enterprise forward.
Acknowledging the significant assistance the region still receives, Anthony, also his country's Minister of Finance, warned that in the current global economic circumstances, many of the region's traditional donors are themselves under siege.
"So if the region is to reposition itself – as it must – let us reengineer our premier regional organisation to deliver the promised future", he urged.
Earlier in his address, Anthony had said that the Caribbean had been too long stalled at a crossroads of indecision and that the demise of its traditional commodity sectors had left it in strife which had also taken over tourism-based economies.
He used his own St Lucia as an example.
"In our own case of the banana industry, which was once a million dollar a week enterprise, we failed to address in time and in entirety, the very obvious open market challenges we knew were coming. Instead, we preferred to hope that special and exceptional arrangements would be made for us in the wake of collapsing market protection. Indeed, we created an elaborate, and some say expensive regional negotiating machinery mandated to make it so.
"So convinced were we that inherent fragility would render us unable to cope, we hoped that additional aid – instead of open trade – would have helped us transition successfully. In hindsight, we must ask ourselves why we did not learn from our competitors, and expand our production frontiers beyond our own geographic limits. Instead, we shrunk our imaginations and remained insular. We declined to learn the bitter lessons of our own history.
"Again, in hindsight, why did we not envisage ourselves as owners of a global industry, with decades of industry knowledge under our hats, growing bananas anywhere in the world where land, climate and other critical factors of production coincided?", he questioned.
Anthony argued that building more robust economies on the basis of access to markets, capital, knowledge etc is mandatory as are fiscal prudence, world-class education, good governance, functional justice systems and strong democratic institutions but these had to be given budgetary priority.
He lauded the impact of the Caribbean Court of Justice on governance in the region and said it was a major success.
He noted Dominica's expected accession to the appellate jurisdiction of the court yesterday and said that St Lucia is not far behind. He also hailed the contribution of the University of the West Indies to the integration movement.
Around the Web