BRASILIA, (Reuters) – A former Petrobras executive told a congressional hearing yesterday that Brazil's ruling Workers' Party received up to $200 million skimmed from contracts with the state-run oil company, reiterating claims made in plea bargain testimony.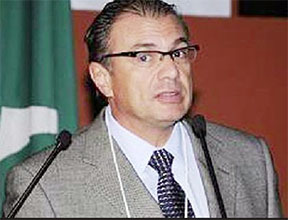 Pedro Barusco, a former executive at Petrobras' services division, said he had received payments as early as 1997 and in larger amounts starting in 2004, one year after the Workers' Party took office.
He said Joao Vaccari, treasurer for President Dilma Rousseff's political party, had received between $150 million and $200 million between 2003 and 2014, based on the percentages of contracts he himself had received.
"I got a piece; they got a piece," Barusco said. He has pledged to return $97 million to public coffers as part of a deal he reached with prosecutors.
Barusco spoke at a time of escalating fallout from the scandal at Petroleo Brasileiro SA, as Petrobras is formally known, with dozens of lawmakers now implicated.
Barusco said he did not know who ultimately ran the scheme and to his knowledge Former Petrobras CEO Maria das Gracas Foster, who resigned along with other senior Petrobras management last month, was not involved.
The Workers' Party denied that its treasurer had ever discussed funding with Barusco and said it only received legal donations. In a statement, the party said that in five hours of testimony, Barusco had provided no proof linking Vaccari to bribes.
The party is suing Barusco.
Prosecutors started questioning Vaccari on Feb. 5 but he has not been charged with any crime. His lawyer and Workers' Party leadership say the party only receives legal donations.
Forty people, including three former Petrobras executives, have been charged in the southern city of Curitiba and 14 are currently in jail awaiting sentencing.
Many of those charged lead the country's top engineering firms and are charged with forming a cartel that funneled funds from Petrobras contracts to themselves and politicians.
Barusco said he first remembered seeing the cartel active on contracts to build the Abreu e Lima and Comperj refineries. Petrobras shares fell 4 percent yesterday.
Defense lawyers told Reuters this week they expect to see the first verdicts on some cases in Curitiba in about a month, possibly before all witnesses are heard, as the focus of the case moves to the politicians being tried by the Supreme Court.
Rousseff, who was chairwoman of the company's board when much of the graft took place, has denied any knowledge of corruption at Petrobras and urged a thorough investigation.
Around the Web