SAO PAULO, (Reuters) – Brazilian federal police on Tuesday arrested businessman and rancher Jose Carlos Bumlai, a friend of former President Luiz Inacio Lula da Silva, for suspected fraud in a drillship contract with state-run oil firm Petrobras.
Prosecutors said they were also investigating Bumlai with the help of Brazil's tax collection agency for his role as the intermediary in a series of questionable loans made to politicians and to Lula's Workers' Party.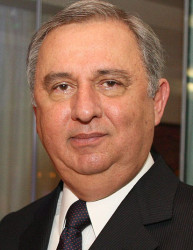 The loans began in 2004 when Lula was president and Bumlai, referred to by one prosecutor as "one of the largest ranchers in Mato Grosso do Sul state," had ready access to the presidential palace, police said.
Prosecutors believe Bumlai used his connections with Lula to obtain loans for businessmen in the sugar and ethanol industry. The tax collection agency said in a statement that it would investigate the use of loans from state-run lender BNDES to benefit family-run businesses.
The nearly 2-year-long investigation into kickbacks on Petrobras contracts has resulted in the arrest of several people close to Lula – notably his former chief of staff Jose Dirceu – though prosecutors and police say the former president himself is not being investigated.
Dozens of executives from Brazil's top construction and engineering firms have been charged with bribery and money laundering in the massive corruption scandal and about 50 politicians are being investigated for receiving kickbacks, mostly members of President Dilma Rousseff's ruling coalition.
Around the Web