The decomposed body of a Charity, Essequibo Coast man was yesterday found in his home when an obnoxious smell emanating from the house was investigated.
The man was identified as Ganesh called 'Braff' and according to police he was around 55 years old.
Residents living near the man's Extension Scheme home said that he was known to abuse alcohol and was last seen on Friday.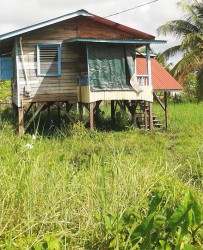 "We did not know that Braff was dead. When people started smelling a bad stench then is when we suspect that he was dead.  We called the police and they had to break down the door to get into the house," a resident said.
The man reportedly lived alone and may have died on Friday or Saturday as his body, which was found face down was in a state of decomposition.
"A lot of flies were around the area this morning and the only thing that was left for us as neighbours to do was to call the police because we just couldn't go in the house," one resident said.
No foul play is suspected by the police, but investigations are ongoing.
Comments

(Trinidad Guardian) Former T&T and Manchester United footballer Dwight Yorke yesterday denied he entered into any contract with Chutney Monarch Neval Chatelal to loan him money to pay off a debt following his Island Vibe fete last year.

For the limited reopening of the Skeldon and Enmore sugar estates next month, government is in the process of borrowing some $10B to 15B from local commercial banks here, Minister of Finance Winston Jordan says.

A 38-year-old electrical contractor narrowly escaped death yesterday after he was shot and robbed of $600,000 by two motorcycle bandits who trailed him from a bank before cornering him at his Enmore, East Coast Demerara (ECD) worksite.
Guyana has registered its highest score on the Transparency International (TI) Corruption Index Report but even with a mark of 38 and ranking at 91 out of 180 countries it is still viewed as a very corrupt country.
Guyana's appeal over the constitutionality of presidential term limits will now be heard on March 12 by the Caribbean Court of Justice (CCJ), according to the Trinidad-based court's schedule of sittings.