A little over a year after being charged with murdering elderly remigrant Joyce Lewis, Junior Williams was yesterday committed to stand trial in the High Court.
Williams, also known as Kevin Alfred, was charged with killing Lewis, 75, on March 26, 2014, at her North Ruimveldt home.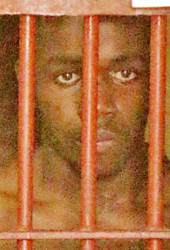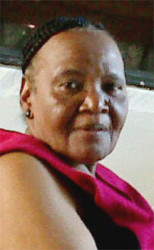 However, a large portion of the Preliminary Inquiry (PI) into the murder charge was conducted in Williams's absence. This was as a result of his continued unwillingness to appear before the court without legal representation. Additionally, Williams voiced his distrust of Chief Magistrate Ann McLennan, who presided over the matter.
After calling a total of 15 witnesses, Police Prosecutor Neville Jeffers closed the prosecution's case against Williams. After taking into consideration all the evidence presented during the PI, Magistrate McLennan ruled that there was enough evidence to have Williams committed to stand trial at the High Court.
Lewis, who lived alone, was found dead in her Lot 3630 Christiani Street, North Ruimveldt home. She was believed to have been strangled during an early morning robbery.
Her body was discovered at her home by the police and her sister. Sources close to the investigation said Lewis was found sprawled on a bed with her underwear pulled to her ankles. There were also dark marks around her neck.
The intruder was believed to have gained entrance through a window at the back of the two-storey house. The window was broken and the grill barring entry into the house was clipped.
Williams, a labourer of Crane, West Coast Demerara, was also charged with the illegal possession of a firearm, and is currently serving a 48-month-long prison sentence after Magistrate Judy Latchman found him guilty of the offence earlier this year.
Comments

Mashramani celebrations ground to halt for several families yesterday afternoon, when approximately 30 persons lost their homes after a fire of unknown origin ripped through three Victoria Road, Plaisance properties, including an apartment building.

Minister of State Joseph Harmon says that the US$3 million settlement offer made by Hong Kong Golden Telecom Limited (HKGT) on the outstanding balance for its purchase of government shares in the Guyana Telephone and Telegraph Company (GTT) is being actively considered, but the government's goal is to recover the entire US$5 million that is owed.

Opposition Leader Bharrat Jagdeo on Thursday criticised government and Minister of Finance Winston Jordan on the heels of the announced plan to borrow cash from local banks to reopen two sugar estates and to fund critical current and capital Guyana Sugar Corporation (GuySuCo) programmes.
The private sector is upbeat about the nearly three dozen-odd opportunities recently advertised in the oil and gas sector as it goes some way towards meeting local content needs, according to Private Sector Commission (PSC) Chairman Eddie Boyer.

'Black Panther,' the new Marvel Studios cinematic juggernaut opened in Guyanese theatres to overwhelming support on Thursday evening, which saw a large number of patrons turning out in African cultural display to mark the occasion.