LONDON Reuters) – Support for British Prime Minister David Cameron's Conserva-tives is at its highest level in over two years, one opinion poll showed yesterday, but two others put the opposition Labour Party ahead less than three months before a national election.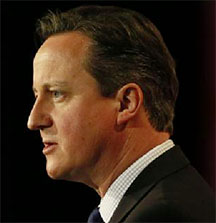 The mixed results underlined how the May 7 election is shaping up to be one of the most unpredictable in modern British history. Most polls since the start of the year have had Labour narrowly ahead or level with the Conservatives.
Monday's Guardian/ICM poll put the Conservatives on 36 per cent, up six points from last month, and at their highest level in that polling series since May 2012. Backing for Labour fell one point to 32 per cent.
The poll of 1,000 adults showed support for the anti-EU UK Independence Party (UKIP) and the Green Party fell two points each to 9 per cent and 7 per cent respectively, while Cameron's junior coalition partners, the Liberal Democrats, dropped one point to 10 per cent.
An Ipsos MORI poll last week also showed the Conservatives and Labour were picking up support at the expense of their smaller rivals.
In a sign of how uncertain and close the election remains however, a Populus poll, also published yesterday, put Labour ahead on 33 per cent, compared to 31 per cent for the Conservatives.
And a third poll, funded by former Conservative deputy chairman Michael Ashcroft, showed support for Labour at 31 per cent, one point ahead of the Conservatives.
Around the Web