(Reuters) – Leonard Nimoy, who won fame and fans with his portrayal of logic-bound, half-alien Mr. Spock in the "Star Trek" TV series and movies, died yesterday. He was 83.
Nimoy, who had battled chronic obstructive pulmonary disease (COPD), died in the morning at his home in Los Angeles' Bel Air section, his agents, Bob and David Gersh, said in a statement.
"We return you now to the stars, Leonard," fellow "Star Trek" cast member George Takei wrote on Facebook.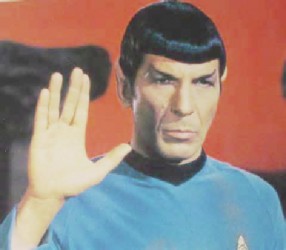 "You taught us to 'Live long and prosper,' and you indeed did, friend," said Takei, recalling the trademark phrase uttered by Nimoy's character.
Nimoy had long struggled with a love-hate relationship with the role of Spock – the half-human, half-Vulcan first officer on the starship Enterprise – but came to accept its part in his life.
Last year, he disclosed on Twitter that he had been diagnosed with COPD, a progressive lung disease.
"I quit smoking 30 years ago. Not soon enough," he tweeted to his 810,000 followers. "Grandpa says, quit now!!"
Nimoy had other roles during a lengthy career in TV, film and theater. He directed successful movies, wrote books, composed poetry, published photographs and recorded music. But he will be forever linked to Spock in the original 1960s "Star Trek" TV series and subsequent movies.
Known for suppressing his emotions and using logic to guide his actions, the pointy-eared Spock – whose father was from Vulcan and whose mother was from Earth – became one of science fiction's best-known, most beloved characters.
U.S. President Barack Obama, who has been compared to Spock for his prominent ears and coolheaded demeanor, called Nimoy and his character "the center of 'Star Trek's' optimistic, inclusive vision of humanity's future."
"I loved Spock," the president said in a statement.
For years, Nimoy resented that Spock defined him, but ultimately came to accept that his life would be intertwined with the character, who inspired a fervent fan following.
His feelings were summed up in the titles of his memoirs: "I Am Not Spock" in 1975 and "I Am Spock" two decades later.
"I was involved in something of a crusade to develop a reputation as an actor with some range," Nimoy wrote in "I Am Not Spock."
Around the Web