DAKAR, (Reuters) – Senegal's President Macky Sall said yesterday he would hold a referendum next year to reduce the presidential term to five years from seven, seeking to "set an example" at a time when some African leaders want to lift their term limit.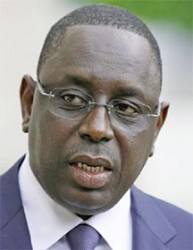 Sall declined to say whether he would seek a second term in his West African country, regarded as a bastion of democracy in a turbulent region, though he is widely expected to do so.
Sall pledged during his 2012 campaign that he would cut the presidential term in Senegal to bring it into line with regional norms after his predecessor, Abdoulaye Wade, increased it from five to seven years.
"Have you seen a president decrease their mandate? Me, I am going to do it," he told a news conference. "People must see that in Africa, we are capable of setting an example and that power is not an end in itself."
Sall, a former prime minister during Wade's term as president, said the referendum would probably take place in May 2016. If the outcome is positive, the next presidential election will take place in February 2017, he added.
Around the Web