SANAA/ADEN, (Reuters) – Suicide bombers killed at least 137 worshippers and wounded hundreds more during Friday prayers at two mosques in the Yemeni capital Sanaa, in coordinated attacks claimed by Islamic State.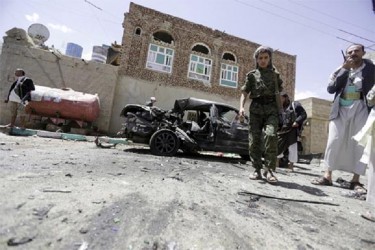 The attacks on mosques used by supporters of the Shi'ite Muslim Houthi fighters who control the city were the deadliest in a years-long campaign of violence in the country, where Washington has been waging a drone air war against a local branch of the Sunni Muslim militant group al Qaeda.
Sectarian unrest has increased in recent months after the Iran-backed Shi'ite fighters seized the capital last year.
Four bombers wearing explosive belts targeted worshippers in and around the crowded mosques. State news agency Saba, which is controlled by the Houthis, put the death toll at 137 and the number of wounded at 357.   Hospitals were overwhelmed, appealing for blood donors to help treat the large number of casualties.
A Reuters journalist at the Badr mosque counted at least 25 bloody bodies lying in the street and inside the building. One man carried a child in his arms.
Islamic State, the al Qaeda offshoot that controls swathes of Syria and Iraq and has been attracting followers in other countries, considers Shi'ites to be heretics.
Both groups have now rallied against the Houthis in Yemen, giving them the same enemies as the U.S.-backed government in a complex, multi-sided conflict in the Arab world's poorest country.
"Let the polytheist Houthis know that the soldiers of the Islamic State will not rest and will not stay still until they extirpate them," the group said in a statement posted by supporters on Twitter, claiming responsibility for the attacks.
"God willing, this operation is only a part of the coming flood."
Among the dead was Almortada al-Mahatwary, a leading figure in Yemen's Shi'ite Zaidi sect, the Houthi-controlled al-Masirah television channel said.
Badr mosque was hit by two bombers and two others struck a second mosque. A fifth bomber was killed when he tried to attack a mosque in Saada province, a northern Houthi stronghold, but the device went off prematurely, a security source told Reuters.
"I was going to pray at the (Badr) mosque then I heard the first explosion, and a second later I heard another one," a witness told Reuters.
Television footage showed young men in traditional Yemeni clothes carrying lifeless bodies, some dripping with blood, out of the mosque.
In Washington, the White House condemned the bombings and said it could not confirm that the attackers were affiliated with Islamic State.
Around the Web