PARIS/SEYNE-LES-ALPES, (Reuters) – A young German co-pilot barricaded himself alone in the cockpit of Germanwings flight 9525 and apparently set it on course to crash into an Alpine mountain, killing all 150 people on board including himself, French prosecutors said yesterday.
They offered no motive for why Andreas Lubitz, 27, would take the controls of the Airbus A320, lock the captain out of the cockpit and deliberately set it veering down from cruising altitude at 3,000 feet per minute.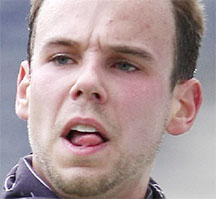 German police searched his home for evidence that might offer some explanation for what was behind Tuesday's crash in the French Alps.
The scenario stunned the aviation world. Within hours of the prosecutors' announcement, several airlines responded by immediately changing their rules to require a second crew member to be in the cockpit at all times. That is already compulsory in the United States but not in Europe.
Canada said it would now require it of all its airlines. EasyJet, Norwegian Air Shuttle and Air Berlin were among other carriers that swiftly announced such policies.
Among those that didn't was Germanwings parent company Lufthansa, whose CEO said he thought it was unnecessary. But the airline came under swift pressure on social media to make such a change and later said it would discuss it with others in the industry.
French and German officials said there was no indication Lubitz was a terrorist but offered no rival theories to explain his actions. Acquaintances described him as an affable young man who had given no sign of harmful intent.
Lubitz acted "for a reason we cannot fathom right now but which looks like intent to destroy this aircraft", Marseille prosecutor Brice Robin said.
Setting the plane's controls for rapid descent was an act that "could only have been voluntary", Robin said. "He had… no reason to stop the pilot-in-command from coming back into the cockpit. He had no reason to refuse to answer to the air controller who was alerting him on the loss of altitude."
The captain, who had stepped out of the cockpit, probably to use the toilet, could be heard on flight recordings trying to force his way back in. "You can hear banging to try to smash the door down," Robin said.
Most of the passengers would not have been aware of their fate until the very end, he said: "Only towards the end do you hear screams," he said. "And bear in mind that death would have been instantaneous…the aircraft was literally smashed to bits."
FlightRadar24, an online air tracking service that uses satellite data, said it had found evidence the autopilot was abruptly switched from cruising altitude to just 100 feet, the lowest possible setting. The plane crashed at about 6,000 feet.
"Between 09:30:52 and 09:30:55 you can see that the autopilot was manually changed from 38,000 feet to 100 feet and 9 seconds later the aircraft started to descend, probably with the 'open descent' autopilot setting," Fredrik Lindahl, chief executive of the Swedish tracking service, said.
Around the Web