GARISSA, Kenya (Reuters) – Kenya's President Uhuru Kenyatta said yesterday that those behind an attack in which al Shabaab Islamist militants killed 148 people at a university were "deeply embedded" in Kenya, and called on Kenyan Muslims to help prevent radicalisation.
His televised speech in response to Thursday's 15-hour siege at the Garissa university campus came after the Interior Ministry said five suspects in the assault had been detained, some while trying to flee to Somalia.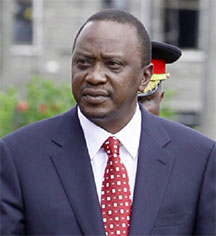 Four suspects were Kenyans of Somali origin, and the fifth was Tanzanian, the ministry said. The suspected mastermind, Mohamed Mohamud, a former teacher at a Garissa madrasa, is still on the run. Kenya has offered a 20 million shillings ($215,000) reward for his arrest. "Our task of countering terrorism has been made all the more difficult by the fact that the planners and financiers of this brutality are deeply embedded in our communities," Kenyatta said.
"Radicalisation that breeds terrorism is not conducted in the bush at night. It occurs in the full glare of day, in madrasas, in homes, and in mosques with rogue imams."
The attack at Garissa, which lies 200 km (120 miles) from the Somali border, has put Kenya on high alert and spooked its Christian communities after reports the gunmen sought out Christian students while sparing some Muslims.
Kenyatta's comments will put more pressure on Kenya's Muslim community, who make up about 10 per cent of the 44-million-strong population.
More than 400 people have been killed by al Shabaab on Kenyan soil since he took power two years ago, including 67 people who died during a siege in September 2013 on a Nairobi shopping mall.
Earlier on Thursday, Somali militants vowed to wage a long war against Kenya and run its cities "red with blood".
In a message directed at Kenyans, the al Qaeda aligned group said the raid on Garissa was revenge for Kenya's military presence in Somalia and mistreatment of Muslims within Kenya.
"No amount of precaution or safety measures will be able to guarantee your safety, thwart another attack or prevent another bloodbath from occurring in your cities," the group said in an emailed statement received by Reuters in the Somali capital.
Four attackers died at Garissa, but Kenya has not named them or announced their nationalities. The authorities put their bullet-ridden, swollen bodies on display yesterday, hoping that crowds coming to view the corpses might identify them.
The interior ministry said three suspects arrested at the border had coordinated the attack. Two were detained at the university, including a security guard and a Tanzanian man named as Rashid Charles Mberesero.
"We suspect the Tanzanian, who was hiding in the ceiling, was one of the combatants. He had ammunition with him when he was arrested on Thursday night," ministry spokesman Mwenda Njoka told Reuters. "We suspect the guard facilitated the entry (into the university)."
The Kenya Red Cross said it had found a woman survivor yesterday in the university, two days after the siege ended.
Around the Web