WASHINGTON, (Reuters) – President Barack Obama and Brazilian President Dilma Rousseff used a White House visit yesterday to turn the page on a spying scandal that had damaged bilateral relations and said they want to work to bolster economic ties.
The presidents agreed to a series of steps to make it easier for people and goods to move between the two countries, including reopening fresh beef trade.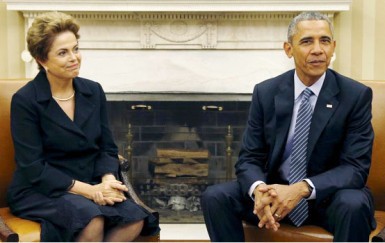 During an hour-long press conference, Rousseff said "things have changed" since October 2013, when she canceled an official state visit after revelations from former National Security Agency contractor Edward Snowden that the United States had spied on her.
"The change is particularly due to the fact that President Obama and the U.S. government have stated on several occasions that they would no longer engage in intrusive acts of spying on friendly countries. I believe President Obama," Rousseff said.
Obama greeted Rousseff with a warm hug when she arrived in Washington on Monday, taking her for an impromptu visit to a memorial for civil rights leader Martin Luther King Jr. before a working dinner.
Obama praised Brazil during yesterday's press conference as a "global power" and an "indispensable partner" playing a critical role in addressing climate change with a deal to boost renewable power production.
On Rousseff: "I trust her completely," Obama said. "She's always been very candid and frank with me about the interests of the Brazilian people and how we can work together. She's delivered on what she's promised."
The presidents agreed that the two countries will resume cooperation on cyber issues, with a meeting planned in Brasilia.
They also agreed to take steps so that Americans and Brazilians can travel between the two countries without visas, and to allow Brazilians to apply for expedited "Global Entry" clearance when visiting the United States in early 2016.
The visit is particularly important for Brazil, which is in the midst of a sharp economic downturn, a huge political corruption scandal, and a potential governance crisis.
Rousseff vowed that Brazil will "overcome" its current crisis and resume growth, and said she wants to attract more U.S. investment to Brazil and funding for infrastructure projects.
She later said she wanted to open Brazil's economy more in a speech for the Brazil-U.S. Business Council. Brazil has one of the world's most closed economies because of high import tariffs and other trade barriers.
The government is working to improve the business climate and simplify its tax code, she added.
Around the Web