OUAGADOUGOU (Reuters) – Burkina Faso has issued an international arrest warrant for ousted leader Blaise Compaore in connection with the murder of former president Thomas Sankara nearly 30 years ago, judicial sources told Reuters yesterday.
The popular leader's 1987 murder is one of the most infamous assassinations of Africa's turbulent post-independence period, and Burkina Faso's interim government has pledged to solve it.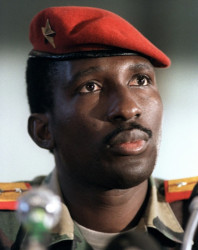 A body believed to be Sankara's was exhumed earlier this year and an autopsy showed it was riddled with bullets, strengthening assertions that he was executed in the 1987 coup that brought Compaore to power.
Compaore himself was driven from power last October by crowds opposing his bid to change the West African country's constitution and extend his 27-year rule. He fled to neighbouring Ivory Coast, where he is now thought to be based.
"I confirm that an international arrest warrant was issued against (ex-)President Blaise Compaore by the investigating judge," Prosper Farama, a lawyer for Sankara's family, told Reuters. He said the charges were murder and complicity in the assassination, among others.
Two other judicial sources who requested anonymity confirmed the warrant, which they said was issued on December 4. A Burkina government spokesman was not available for comment.
Around the Web